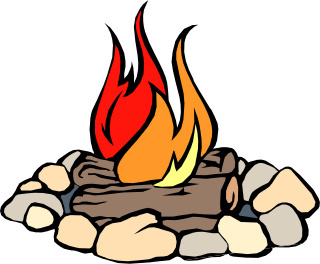 Making your own char cloth for a fire starting tinder is really quick and easy to do!
I have been practicing my fire starting skills without using any matches or lighters and so can you!


Skills – Making Char Cloth
Understanding and practicing multiple ways of making fire without matches or lighters adds to your toolbox of knowledge and survival skills.
Learning and practicing my fire making skills moves me along that self-reliance yardstick in the right direction.
Since I make every attempt to do a daily cook out on my Kamado Joe grill, I think lighting up my charcoal is a good way to get some fire making practice! No waiting until a camping weekend to get that much needed practice!! <-- note the two exclamation points …
Think of some way you can get some fire making practice, as trying and doing is much better than reading, — about learning and honing your essential and potentially lifesaving doing stuff outdoors skills.
Making char cloth is easy enough to do.
All you need is a small airtight metallic container of some sort, — you need an old 100% cotton tee shirt, and lastly, — some hot coals. Read that tee shirt tag that always pokes the back of your neck, it must be 100% cotton for this process. It does not need to be white; a dyed tee shirt will work.
I made my char cloth after cooking out on my Kamado Joe grill one afternoon.
That is pretty much it!
I found these at the checkout register and picked up two of them. They were under $2.00 each. I am using one of these to make the char cloth, the other is to store it when I finish.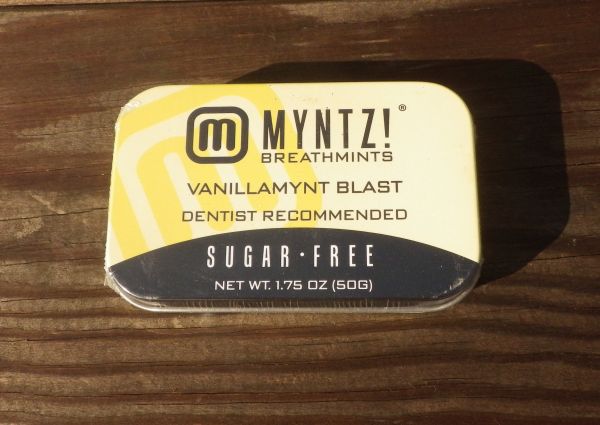 You could probably improvise and make something that will work just as well. Using old soda or beer cans come to mind. Those things seem to be all over the place (litter!?).
The next step is to make a small hole in you're airtight container. The hole in mine was made with a 1/16 inch drill bit. This is to let the heated gasses escape as your cotton tee shirt turns into char cloth. You can see the smoke escape if you watch the process.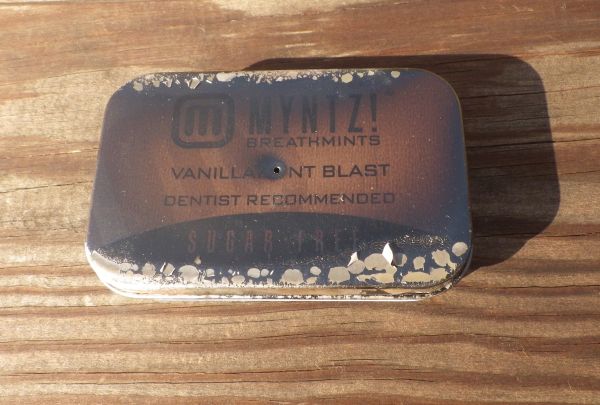 When you have found that old tee shirt, fill up that container with small 1 inch or so squares. No need to measure, just eyeball it!
Okay, your done grilling and now ready to make some char cloth!
Put your char cloth making container on top of the hot coals. Soon you will see smoke come from that little hole you made. Give it a good 5 or 10 minutes to finish up.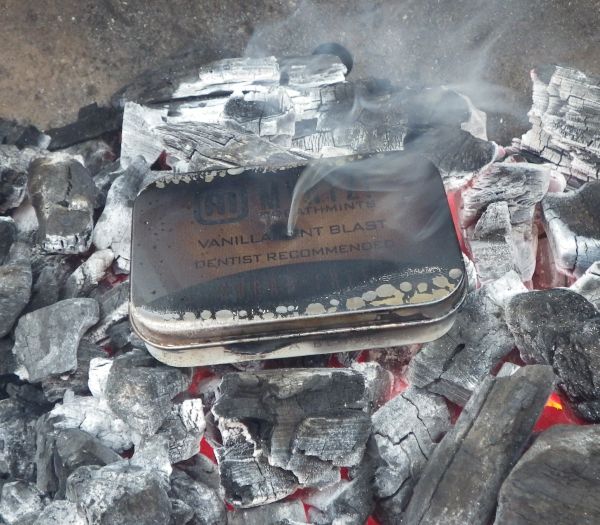 As you watch things, you will see smoke begin to emerge from the hole and flames begin to curl around the edges of the box. You might notice a flame over the hole in the box. Do not worry, everything is progressing as it should!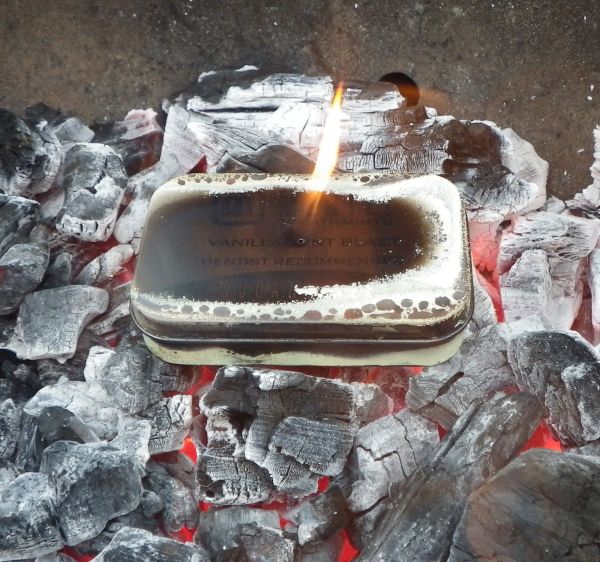 In 3 or 4 minutes, the smoke will stop. Those flames around the edges will also stop. Give it another minute or two to finish up.
Lastly, use a pair of tongs or something similar to remove the container from the coals to cool for a while.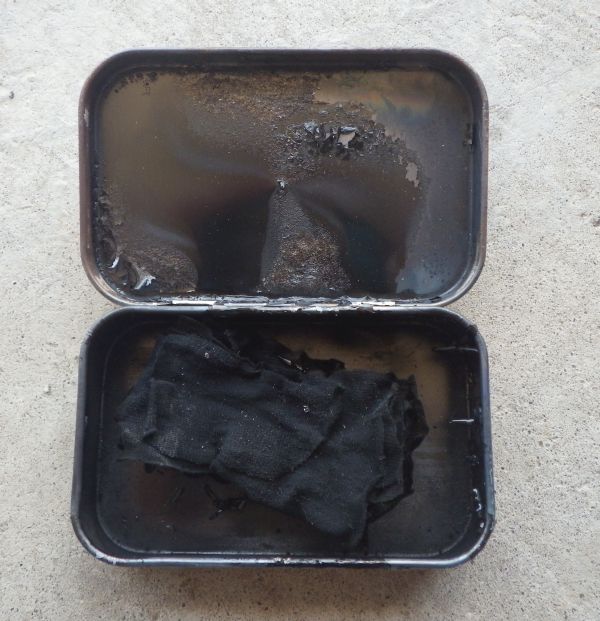 Now take a peek, your char cloth is all set to put into that other container for safe keeping.
Next time you fire up the grill, consider practicing your fire making skills. Use a fire steel and a piece of the char cloth to get her going. Check out this earlier post where I did just that!