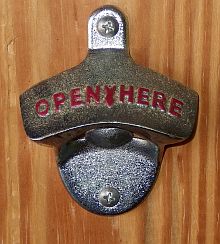 Okay, I have now earned my second craft beer merit badge for 2015.
It seems like it has been a while since I did my first craft beer post and earning that first merit badge for the year! As a reminder, you get one merit badge for every 5 craft beers that you try. Your list starts at zero on New Year's.
We can make up the rules as we go along!


Craft Beer Merit Badge II
You might be thinking that trying new beers, especially locally brewed craft beers, might be a bit on the pricey side? Look at it this way, a sixer of your weekend grass cutting beer or the stuff you drink while knocking out those weekend chores will set you back about $6.99.
Hey, I just checked. My grass cuttin', chore doin' beer is $6.99 for 6 cold refreshing 12 ounce bottles.
So, after a long week doing the corporate 8 to 5 thing, some decent beverages are a just reward! Forking out a few extra greenbacks is worth that experience of a new and tasty, handcrafted, beverage!
So, these are the latest five craft beers added to my 2015 list:
Scuttlebutt Brewing Company, Hoptopia, Imperial India Pale Ale, 6 pack of 12 ounce bottles
Parkway Brewing Company, get Bent Mountain IPA, 6 pack of 12 ounce bottles
Flying Dog Brewery, Snake Dog IPA, 6 pack of 12 ounce bottles, $9.97
O'Conner Brewing Company, Great Dismal Swamp Black IPA, 6 pack of 12 ounce bottles, $9.49
Natty Green's Brewing Company, Southern Pale Ale, 6 pack of 12 ounce bottles, $9.59
Yep, all of these were awesome beverages and are in my "Yes, — I would buy it again" category.
They would pair well with anything coming off the grill, out of the smoker, or last night's leftover pizza straight from the fridge.
Two merit badges, — 10 different craft beers this year so far.
Let me know about your favorite craft beers?