This is one of my favorite weekend recipes; Kamado Joe smoked bacon wrapped bratwursts. This time I am using cherry for the wood smoke. I had a TON of cherry smoking wood thanks to by awesome brother-in-law Doug. Thanks Doug!



Kamado Joe Smoked Bacon Wrapped Bratwursts
Actually, now, it's a lot less than a ton since I have been using a lot of cherry smoking wood over the past winter, spring, and summer months for wood smoke on the Kamado Joe.
Cherry produces a mild wood smoke and adds a nice reddish color to what you're smoking. All things considered, cherry is one of my favorite smoking woods.
For more on wood smoke and smoking wood, and how you can change up your barbecue game, go check out this cheap reference book on Amazon. It's a no-fluff guide to wood smoke and smoking wood. Check it out here on Amazon and pick up a copy.
Smoked bacon wrapped bratwursts on the Kamado Joe is real easy to do. Check out what's below, then go fire up your Joe.
You'll need to make a bunch because they'll go quick once the neighbors get a whiff of what is going on in your backyard.
Johnsonville Beer Brats
First, you'll need a package of your favorite brats, I used the Johnsonville beer brats today, they are my own go-to brats for grilling. It was an added bonus that they were also on special.
Second, you'll need a package of your favorite thin sliced bacon. Each of the brat's will take two slices to wrap up completely, with a bit of overlap in the middle.
Smoked Bacon Wrapped Bratwursts
Lastly, set these bacon wrapped brats on top of the smoker grate and let the smoking commence for about 2 hours or until the center of the brat reach 160 °F (72 °C) and the bacon firms up nicely. From time to time, be sure to give them an occasional turn for even cooking.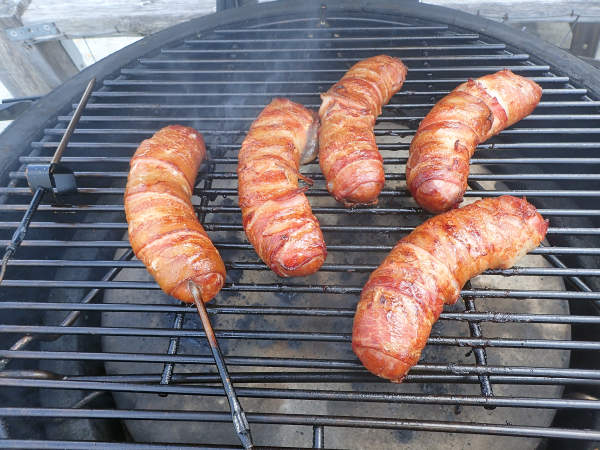 Taste Test – Smoked Bacon Wrapped Bratwursts
I mostly follow the lower carb diet. I believe that the occasional hot dog bun doesn't affect me that much. Besides, the bun helps to hold all of these healthy gut-friendly condiments in place. In the meantime, keep reading…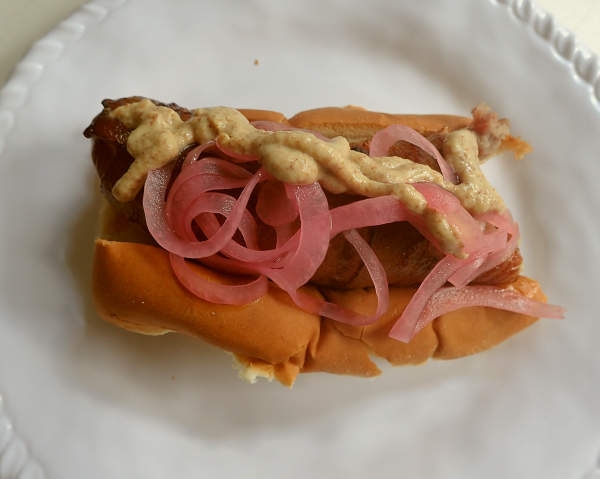 Not seen in this picture, nestled down in the bottom of the bun is a bit of homemade fermented pepper relish. Lots of natural probiotics here. On top are a few homemade pickled red onions and a squirt of homemade and naturally fermented coarse ground horseradish mustard. You can find these fermented recipes in this book, Fiery Ferments.
Check it out here on Amazon.
Kamado Joe Smoked Bacon Wrapped Bratwursts
So try these smoked bacon wrapped bratwursts next time you fire up your Joe.
Give these a try and leave me a note, what did you think?
With all this in mind, I might just try adding a breakfast sausage link next time, making a smoked bacon wrapped sausage stuffed bratwurst. That sure is a mouthful of words, but I am sure it will be good.
Just one last thing, did you know that August 16, 2017 was National Bratwurst Day.
Check out my other Kamado Joe grilling and smoking recipes over on my Outdoor Eats page.