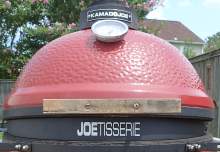 I was hoping that the recent Amazon Prime day would have discounted the Kamado Joe JoeTisserie accessory. Unfortunately for me there were no Amazon Prime JoeTisserie discounts today.
So I ordered one anyway for my Kamado Joe Classic. It was $263.94, including taxes, when I clicked Amazon's "Buy it now with 1-Click" button. I ordered it Friday and it arrived the following Tuesday.



Kamado Joe – JoeTisserie Review
Amazon changes the price frequently. I have seen the very same JoeTisserie that I paid $249.00 without taxes for as low as $207.99. When grilling season starts, the price goes up. You can check out the current JoeTisserie prices and customer reviews right here on Amazon.com.
Kamado Joe – JoeTisserie Review – The Box
A lot of folks want to know all of the specifications. These are the fresh off the delivery truck measurements.
– Box weight: 10.6 pounds.
– Box measurements: 21 1/2 inches by 23 3/4 inches by 4 1/8 inches.
– Box contents: cast aluminum JoeTisserie insert, the JoeTisserie motor with a 5-foot 3-prong cord, the stainless steel spit rod, and 2 stainless steel spit rod forks..
Kamado Joe – JoeTisserie Review – The Details
I can't tell if the JoeTisserie motor is weather proof? It doesn't look like the motor housing is sealed. So no rainy day JoeTisserie? Check out those gaps in the corners of the motor chassis.
The guys over at Kamado Joe say that this motor can spin up to 50 pounds of chicken, prime rib or Boston butt. I've never seen a 50 pound chicken, but if I had one, I don't think I could fit that into my Kamado Joe Classic JoeTisserie. But, it's a good number to know.
The box contents was well protected in the stryofoam packing. The only gripe here is that I cannot recycle the stryofoam packing. Hey Kamado Joe guys, how about a more ecofriendly packing solution.
The box says "Made in China"
Overall, the pieces all seem to be solid and of the high quality products that the Kamado Joe folks are known for.
There was no instruction manual or recipe book. An instruction book is not really needed, but a recipe book sure would have been a nice addition.
The JoeTisserie cast aluminum insert has a nice gray matte finish and measures 18 5/8 inches where it fits into the cooking chamber. The width of my Kamado Joe Classic cooking chamber is 19 5/16 inches. So there is a bit of wiggle room here and rumor has it that the Kamado Joe – JoeTisserie will fit the Big Green Egg.
If someone sends me a Big Green Egg, I'll update this post and let you know if the JoeTisserie fits and how well it works. Plus pictures!
To use the JoeTisserie on my own Joe, I had to lower the left shelf. Otherwise the insert will not lay flat and get a good seal. No biggie, just wanted to mention that.
Kamado Joe – JoeTisserie Review – Performance
So, how does it perform?
I picked up a 5 pound chicken, gave it a good rinse and a pat down to dry it off. Then I sprinkled some kosher salt over the skin and refrigerated for about 6 hours to help dry the skin.
I wanted to get an oven roasted like crispy skin.
I also made up a foil pouch with two handfuls cherry wood chips for some added wood smoke flavor.
The chicken went onto the JoeTisserie a bit later than I hoped. Too many other weekend chores! The Kamado Joe dome thermometer was holding steady at 350 degrees. I had no way to use my wireless thermometer as there was no grill grate to attach it.
A bit over an hour it was done and it looked awesome! The skin was crisp and had I nice smoke flavor. The cutting board was covered in juice as I pulled off bits and pieces. That chicken never made it off the cutting board and on to the table.
Kory and Keesha, our two Keeshound BFFs, also had some tidbits as well.
Kamado Joe – JoeTisserie Review – The Clean Up
Clean up was a snap, the spit rod and spit rod forks cleaned right up. Yes, they were discolored a bit from the wood smoke. I like to think that this is more of a patina. You know, that highly desired tarnish that the Antiques Road Show guys talk about.
As a surprise, there was no mess in the bottom of the Joe.
I am happy with this purchase, but I am not sure where why this runs $249.00?, It seems kind of expensive for the materials involved!?
But, cooking out on my Kamado Joe is a weekend ritual, rain or shine and the JoeTisserie is a welcome addition. Though I am not sure about mixing rain and the JoeTisserie?
So what is next, I will have to hunt around through my recipe collection and decide.
This is that must-have Kamado Joe accessory. You can check out the JoeTisserie customer reviews and current prices here on Amazon.com.
Update: lots of folks have asked about a drip pan when using the JoeTisserie. Well there is no room inside the Joe for a drip pan, nope, none at all. Sure, you could wedge something in the firebox, however you would block that crucial airflow. Me, I don't bother using a drip pan, I don't think it's needed.
Check out my other Kamado Joe and JoeTisserie recipes and links here on my Outdoor Eats page.