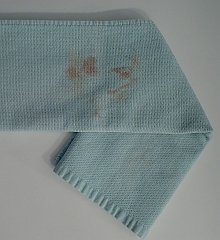 A barbecue towel? I now consider a barbecue towel as an outdoor cooking necessity.
Why?
Outdoor cooking can be a messy task.
I have stained, scorched, and disfigured just about every one of the "indoor" kitchen towels much to my better-half's use of colorful language and very-verbal statements of dismay.
The Barbecue Towel
This is what happens to the "for indoor use only" hand towels. This does not make for an enjoyable outdoor barbecue experience.
I finally got the message and picked up a few 12-packs of these "barbecue towels" on Amazon. Check them out here for the current price and information.
These are a basic black in color and work well as my barbecue towel for all-around outdoor grilling use. These barbecue towels are 100% cotton so they won't melt. Amazon advertises them as multi purpose bar mop hand towels.
Oh yeah, why black?
The Barbecue Towel – Uses
Well, as an example, have you ever smoked any foods while using cast iron cookware? You get that nice rusty smoke coating on the black iron that will permanently stain nearly anything it touches. Well black doesn't show the discoloration so much.
After cleaning out my Kamado Joe firebox and loading it for a longer low and slow cook, my hands are black with charcoal. These barbecue towels don't show that mess.
I can also use these to wipe down the Kamado Joe, easily removing the accumulated outdoor dust and debris off the ceramics as I prepare to light it up.
One other use has been to wipe off the remaining seasoning oil placed on my cast iron cookware or the Kamado Joe cast iron daisywheel top vent.
Of course, –these barbecue towels are considered very much of a disposable item, as a plus they are a fairly cheap investment to preserve household serenity.
The Barbecue Towel – Durable
After a few weeks of grilling use and numerus washings, these barbecue towels have proven to be a real multitasker item and have held up very well. Actually, I have not yet "ruined" any of these barbecue towels. So the two packs I ordered should last a good long time, unless Midge decides that they have other handy uses and commandeers a few of them.
The barbecue towels that have been washed a number of times measure in at 15 by 27 inches.
With well over 700 positive customer reviews on Amazon, I figured they were a quality item and I wasn't at all disappointed with my own order. These barbecue towels arrived in no time at all, with the free Amazon Prime two day shipping.
Come to think of it, these would also make great fishing towels as well.
Find something you like and get a bunch of 'em. Click here to check them out on Amazon.