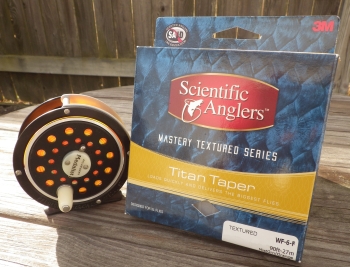 The days are getting noticeably longer as we head into February with an occasional warmer weekend.
With those longer days and warmer weekends comes the desire get outside and have some quality time fishing!
A few weeks ago, I received a brand-spanking-new fly line I had ordered from Amazon, — the Scientific Anglers Mastery Textured Titan Taper fly Line in a size WF-6-F.

A Cure For The Winter Fishing Itch?
Over the Christmas holidays, I had read an online article about the G. Loomis PRO 4x ShortStix fly rod that was paired with this line. That review talked about how well this combination worked at throwing large bulky flies. Throwing large bulky flies is a statement really describes most of my fly-fishing. I mostly fish the local ponds that dot my area.
Throwing these large and bulky flies is a bit challenging for an average caster such as yours truly.
I do not own the G. Loomis PRO 4x ShortStix flyrod, — yet! I am saving my pennies for one of these and the matching fly line. I am looking at the model PRO 4X 908/9-3. If you own one, let me know what you think of it?
But, I do have a my trusty Temple Fork Outfitters 6-weight "Professional Series II" fly rod. Its fly line did need to be replace as it has been in use for five or six years. Heck, maybe even longer than that?
Most of my fishing is done in the fairly shallow ponds (five or six feet in depth) that dot the local area. I mostly target bass, crappie, and bluegill with an occasional accidental catfish added to the mix. My flies of choice are Clouser minnows that are tied on my homemade seven-foot fluorocarbon furled leaders with about two feet of 4-pound tippet. I think this setup gets the fly down fish-catching depths.
I wanted to try out that brand new line and get it wet and see how well I could cast with those "large bulky flies!"
The local temperature was forecasted to hit the 50-degree mark today. I could not help but to gaff off some of those weekend "honey do" chores to spool up this new line and try it out. I grabbed my gear and headed out the door.
Later …
Actually, several hours later … and after wondering around several of the local fishing holes, did I catch anything?
Nope, no bites, not even a tug, nothing!
Well, actually, the "itch" to get out fishing did get a LOT worse!