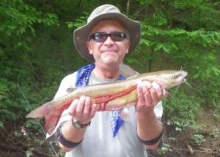 This past weekend, we decided to get out and do a bit of fishing and camping. We were heading out for a relaxing expedition down Virginia's Rivanna River.
As the weekend approached, the weather forecast called for a chance of showers. Okay, no problems!



Rivanna River Fishing – I
Watching the NOAA river forecast, no problems.
All was good.
On the day of the trip, the forecast suddenly showed the river jumping for a more or less normal 4 foot level up to 8 feet. Yikes!
We decide to chop our planned weekend outing in half. Just an over-nighter. Not our typical 3 or 4 day excursion.
Well, we had an awesome time! Caught some nice fish. Scott caught the big bass of the trip with an sweet 18 inch smallmouth. I got the big fish of the trip with a 25 inch catfish caught on a red and white crappie tube jig.
The Rivanna River is quite a fishery, my all-time record is six different species, a small mouth, large mouth, rock bass, blue gill, catfish, and a sucker, all in one day.
The following day, we pulled up to the ramp and loaded up our gear for the trip back. The skies looked ominous, but we really had no rain to speak of.
Soon as we had cell coverage, the river forecast had dropped from 7 plus feet to just a 5 foot jump. Hum, well okay, guess we still made the right decision!?
On the 3 hour trip back home, I knew we had made the right decision, better safe than sorry. Just prior to leaving, I had to sit through the mandatory Summer Safety Stand-down training that all, or most, DoD folks receive.
The next day I checked the forecast. The Rivanna had dropped from the forecasted crest of 7 plus feet back to the normal flow for this time of year. Hum …
All and all, with the information we had, we did the right thing and cut the trip short. The river could have easily come up that high and we would have needed to make some tough decisions. No need for any unnecessary risks, — there are still lots of fish to catch and camping trips to experience.