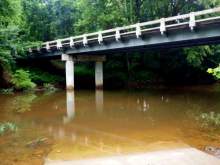 This Saturday we headed out for a relaxing day trip to fish the Nottoway River. We decided on a 5-mile stretch from Double Bridge at Route 619 to the Route 630 Bridge. At both areas, there were decent ramps for launching canoes and fishing kayaks.



Fishing on the Nottoway River I
The Virginia Department of Game and Inland Fisheries describe this section as the beginning of the "lower" Nottoway, where the river begins to deepen and slow. The website also said the Nottoway was a really awesome fishery.
It had been years since either of us had been on the Nottoway River. Mostly we fish the James River or the Rivanna rivers. I get out a lot on those local, close to home waters just so I can get in my needed dose of fishing and outdoor time!
This was the first weekend in a while that the Nottoway River was running close to normal flows. Scott and I have been planning this outing for months is seems, it has been raining nearly every weekend here in the coastal Virginia area and making the river unsafe due to high water.
The latter part of this past week, heavy storms went to the north of the area, dumping a lot of rain into the James River basin.
Yep, a cold front went through but the rain didn't affect our plans, — what would the Nottoway River fishing be like?
While the Nottoway was running just a tad bit higher than normal, just getting outside and doing stuff was a welcome turn of events. The weather was agreeable with temperatures in the mid-80's and overcast with a chance of rain (more rain!?).
As we put in at the Route 630 Bridge, just down river, Scott pulled in a nice looking Roanoke bass using a dark colored beetle spin jig. A few minutes later, I pulled in a really colorful pumpkinseed sunfish on a Bass Pro pink bumblebee beetle spin jig.
I had really good luck with this rig on our recent Pamunkey River outing
.
But that was it for a while, for a long while!
We spent a bit of time fishing all of the rocks, riffles, and laydowns, but never got anything in the canoe. We had a lot of strikes, and I do mean a lot of them. But the fish just didn't like the groceries we had to offer!? They didn't want to commit.
I managed to nab 2 more sunfish and Scott hooked into another Roanoke bass before we reached our takeout at the Route 630 Bridge. The recent rain and the cold front probably shut down the fishing for the next few days? But getting out for a much needed dose of outdoors offset the limited "fish-in-the-boat" numbers!
The Virginia Department of Game and Inland Fisheries site describes a section of the Nottoway a bit further downstream, as the "recommended" stretch to catch a little bit of everything. If the weather cooperates, perhaps that could be a worthy fishing opportunity for the July 4th weekend …