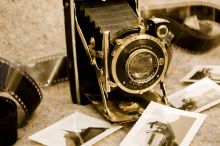 In an earlier post, I had mentioned I was a photography 101, point-and-shoot camera guy, trying to capture those mostly short-lived photo opportunities. Getting a shot of that big fish, that eagle sitting on a tree branch, –you know the situations I am referring to.
My camera was set on full auto everything. Just turn it on and take the picture. The trouble is, those pictures were not all that good. Mostly, the images were just flat, washed out, and lacked detail. Occasionally I would get lucky and I would get an image that I liked.
Has this been your experience also?



Photography 101 – Revisited
Midge has a point and shoot camera that she purchased on QVC. It was pink and she had to have it. Her camera had better quality images! Auto everything as well! We are both "Photography 101" folks.
We both take a lot of pictures of the BFFs and their four-legged antics, so I do have something to compare against. Midge has way better images on her fully automatic camera.
My goal is not to become an expert photographer. My goal is just to take better pictures, capture the moment. Then get back to what I was doing, catching big those fish, or hiking down that trail, — you know, getting back to the doing stuff outside adventure.
To take those better pictures, we need to better understand our point and shoot camera and its multitude of settings that are available, — and I am trying to recall some of that one semester high school photography class as I write this.
So for the most part, we are controlling two things.
– We are controlling the amount of light that is exposed to the camera sensor, known as the aperture, and is measured in "f-stop" values
– We are controlling for how long that light is exposed to the camera sensor, known as the exposure or shutter speed and is measured in seconds, or parts of a second
My point-and-shoot compact camera does not have a "manual" mode for controlling the aperture or the exposure settings.
However, I can control them indirectly by changing the ISO setting. The ISO setting controls the light sensitivity of the cameras image sensor. The camera will then change the aperture and exposure values.
My first "assignment" will be to learn about the ISO settings by just getting outside and experiment by taking pictures with different ISO settings. I might even try working in some extra credit with paying attention to the composition of those images.