Are you looking for a food dehydrator? Do you want to make some of your own beef jerky, — with no additives (crap), — maybe a bit cheaper than the stuff at the grab-and-go?
Or, maybe you want to dehydrate some of that backyard bounty from your garden?

Nesco FD-60 Food Dehydrator Review
The Nesco FD-60 food dehydrator is a great all-around product for making your own dehydrated foods and snacks. I know, I have owned this model for probably close to 20 years. As Nesco continues to offer this model, it is probably a good testimonial on its enduring versatility and popularity.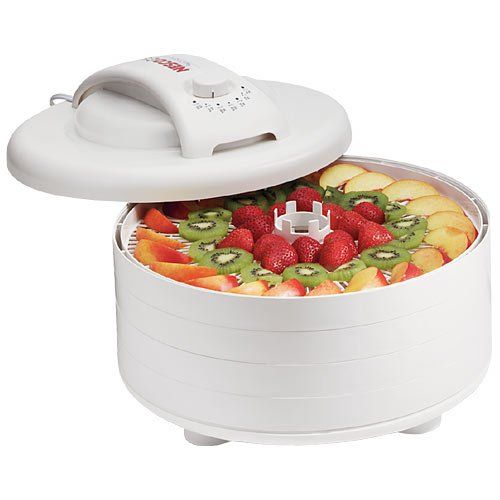 Nesco does make a variety of other food dehydrators under $100 mark. This model, the Nesco FD-60 Snackmaster, hovers between the $50 to $80 range on Amazon.
In an earlier post, I described what I consider key features of a good dehydrator. As I have owned food dehydrators from several manufacturers, I have learned what is important to look for!
The Fan Is On Top
Most food dehydrators have a fan that blows warm air to help dry your food items. The Nesco FD-60 has a top mounted fan, most department store brands have a bottom mounted fan.
So why is this important?
Where I live, when something gets loose, it generally fall to the ground. When that excess beef jerky marinade drips off your freshly made meat strips, where does it go?
What about those spices and other small food bits, where do they go?
Would that stuff fall down into that fan, maybe the thermostat, or the heating coil?
Or, would it fall down into the bottom tray for easy clean up? Once it gets into that sealed fan and heating element area, you cannot do much about cleaning it out. Food bits and debris on these critical parts probably does not make for a long for product life.
Room For Growth — Adding Drying Trays
That Nesco FD-60 food dehydrator comes with 4 trays and can accommodate up to 8 extras for a total of 12 trays. That is a lot of dehydrated food and snacks!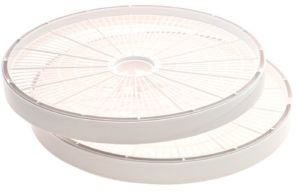 A pack of 2 accessory trays run $10 to $20 on Amazon.
You will probably need them anyway for that next big batch of jerky you will make.
Dehydrator Tray Accessories
Nesco also has a set of really cool accessory trays, — the "Convert-A-Tray" that have removable centers. They are essentially "spacers" that give you the capability to dry larger or taller items or still use them as a standard tray. I use these when I am drying my wood smoked jalapeno to make chipotle peppers.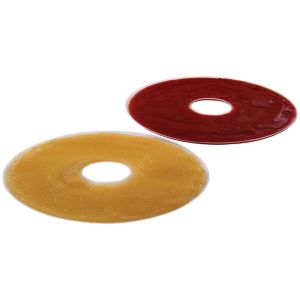 Fruit Roll sheets are for more that drying fruit rolls. You can also dry sauces!
They run about $7 to $8 for a set of two on Amazon.
This blog is all about doing stuff outside. As an example, I can dry jarred pasta sauces to take on my frequent camping trips to mix up into my recipes. No glass, no heavy jars, — just add water.
This food dehydrator is designed to blow the warm air from the fan down the center of the dehydrator then out across each of the food trays. So this means you can use more than one fruit roll sheet at a time with this model.
If this feature is important to you, then compare to those other bottom mounted fan dehydrators that blow warm air straight up from the bottom. Those units can only dry one fruit roll sheet at a time. Visit their websites and download the owner's manual to check for yourself!
These are handy to have as well! The Clean A Screen run between $7 to $8 for a set of 2 on Amazon.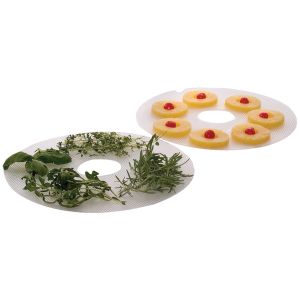 The Clean-A-Screen help keep smaller items such as herbs from that backyard garden from falling through the trays.
The Clean-A-Screen can also help keep some things you might make from sticking to the trays. I make a lot of dehydrated dog treats, — in this case dehydrated liver treats, the Clean-A-Screen keeps those treats from sticking.
Adjustable Thermostat
Most dehydrators under the $100 mark have just the low-medium-high switch on their product.
Yes, you can look on Amazon and compare them!
The Nesco FD-60 food dehydrator has an adjustable thermostat, variable from 95 to 160 degrees Fahrenheit or 35 to 71 degrees Celsius.
Cleanliness
Cleaning up after making a batch of dehydrated food should be easy. Cleaning the Nesco FD-60 is straight forward as you might imagine. The top mounted fan we already talked about, just wipe it down when it gets dusty. The base where all those tiny bits fall, well its easy enough to just wipe that out with a damp cloth as well.
If you own enough drying trays, a neat trick is to place an empty fruit roll sheet on an empty tray at the bottom of your stack trays. Or, in other words, the first tray just above the base would be empty of food with just the fruit roll sheet. This will catch most of the bits and pieces of food, spices, and marinade drips that tend to fall to the bottom.
The trays are dishwasher safe. You can wash them in the sink as I do. I do the same with the Clean-A-Screen and the fruit roll sheets they are washed in the sink as well.
Specifications
– adjustable thermostat
– 500 watts of drying power with a top mounted fan
– it comes with 4 trays, expandable to 12
– dehydrator tray specifications:
— outside diameter: 13.5 inches
— inside diameter: 12.75 inches
— tray height: 1.25 inches
— space between the trays: about 1 inch (my measurements)
— about 120 square inches per tray (for food items)
Amazon sometimes has the Nesco FD-60 Snackmaster on sale for about $60 or so. Check them out here for current price and information!
If you are looking for a really good quality food dehydrator, the Nesco FD-60 Snackmaster should fit the bill. They have several other models as well. The FD-60 has an average of a 4.5 star user rating. Hundreds of happy customers is usually a good indication of a quality item.
I coming posts, I will share with you more of my beef jerky and fish jerky recipes. Be sure to come back and check out my "Dehydrators" page. This is where I link to all my recipes and food dehydrator posts in one easy place.