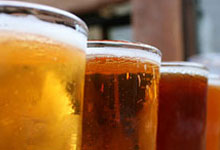 I just finished a book on beer tasting; –it told me what I should consider when drinking a beer, all good info!
So, what is my absolute favorite best beer?
What should I look for in a beer?


My Best Beer Ever
Good questions!
But after thinking on it for a while, I decided am not a beer detective and probably never will be, it's just not me. Looking for the flavors, aromas, colors, how well does it fit the concept of a "this or that" kind of beer, nope, not me. I am a simple guy, I went to public school and grew up in a trailer park.
Beer has been around a long time, evidence suggests since about 2000 B.C. Maybe even as long as we have been walking on this planet with our furry four legged BFFs. I would like to think so!
Who knows? Does it matter?
In my opinion, beer is a social thing and goes with damn near anything. Beer is not something that I really want to take apart dissecting it all into individual piece parts. Beer is beer! Mostly it is all good!
So again, what is my absolute favorite best beer?
Maybe my best beer was the first one that I shared with my childhood friends Alf and Rudy?
Maybe my best beer were the ones I shared in some German Bierhaus, back in the day as a member of the U.S. Army, — when I was stationed behind the Iron Curtain, — inside the Berlin Wall, just yards from our cold war enemies? Also, within view of the monuments and the tributes to the folks to who fled their homeland and gave their all seeking the same freedom you and I have. How soon we forget …
Maybe my best beer was the warm ones shared with my friends in the Central American country of Honduras? America called and we went …
Yep, I am glad to have shared a beer with each and every one I knew!
Maybe my best beer was the ones I shared after they were pulled from a cold mountain stream while backpacking through the Blue Ridge?
Maybe my best beer was the ones shared with friends and strangers when out on all those camping and fishing trips?
Maybe my best beer were the ones shared when sitting around a blazing campfire under a star lit night sky as we talked about how we could change the world and make it a better place?
Maybe my best beer was the ones I share with family and friends during those all too infrequent get-together and backyard cookouts?
Maybe my best beer was that celebratory beer after finishing our grand expedition of fishing, camping, and paddling the entire length of Virginia's James River, navigating all passable sections of the 340-mile river from the Allegheny Mountains to the Chesapeake Bay?
Maybe my best beer was the ones I have when knocking out those everyday routine weekend chores and enjoying cold leftover pizza or something fresh off the grill?
And maybe they were the beers that I had as I remember the friends, the family, and yes, even my dogs that have since passed on, — and I will again see one day!
Maybe they are all my best beers?