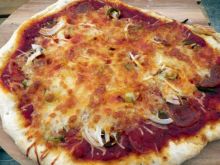 Today I really wanted to try another grilled pizza. The one I made last week tasted really tasted awesome and I wanted to try another. Grilled pizza is one of those essential skills that I am always working to get better at.
But the 45 degree temps and the rainy drizzle did not make for prime grilling weather. But I went for it anyway!


Kamado Joe – Grilled Pizza – Part II
So I made sure there were plenty of cold refreshing beverages available and got to work making the dough for a thin crust grilled pizza. I will go over my grilled pizza crust recipe in a upcoming post. I want to have better weather for taking pictures to share with you.
In my last grilled pizza post, I said I would talk about how to get that pizza from the peel to the grill and back again without having it end up a blob dough on your super hot pizza stone.
I think we all know about "dusting" the pizza peel with corn meal. That was my first grilled pizza attempt, "dusting" didn't work out so well.
The pizza was "stuck" to the pizza peel it would not slide off. I would try to pull it, but it would end up as a blob on the pizza stone. I would straighten it out as best I could and end up with a passable grilled pizza.
My second grilled pizza attempt was to use more corn meal, a bit of a "heavier dusting." The pizza still ended up a blob on the pizza stone.
Back to the drawing board (really more internet research and watching YouTube video clips).
I spent a lot of time watching those videos of folks making their grilled pizzas. They all looked like they use more corn meal, a LOT more corn meal than I was. Not really a lot of discussion on this point though?
Well, for me, the third time was the charm, and the result was an awesome smoky grilled pizza!!! This weekend, I wanted another
Now my secrets:
Today, I again used a LOT of corn meal, giving the pizza peel a good heavy coating.
As I stand in front of the grill, I also give the pizza peel a good shake to break free or separate the pizza from the peel. Almost like shaking a jiffy pop over a camp fire, but just not as aggressive. The pizza would now just slide right off the peel and onto the stone with a bit of guiding.
Getting it off the pizza stone and back on the peel is just as easy, just pick up one corner of the pizza and slide the peel right under that awesome crispy thin crust grilled pizza.
… five minutes …
… six minutes, just a bit more …
… seven minutes, pizza done!
Eat!
YUM!!
Leftovers, — cold pizza, — cold beer, YUM!!
The grill was only running at 500 degrees today, maybe it was cool weather and drizzling rain. I was shooting for about 700 degrees or more. But I have been grilling nearly every evening this week, so maybe the Kamado Joe has a lot of ash that needs to be cleaned out? Need to wait until the rain stops first!
Yep, grilled pizza is an essential skill to master!
Why not share your grilled pizza tips!
In my next grilled pizza post, I will also talk about this really indispensable tool for making some awesome thin crust grilled pizzas.
Check out my other Kamado Joe, Grilled Pizza, and JoeTisserie recipes and links here on my Outdoor Eats page.