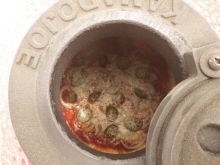 I finally managed to get a decent grilled pizza, actually a really awesome smoky grilled pizza at that!
After three attempts at making my own grilled pizza crusts I have finally succeeded at getting something decent and downright tasty from my Kamado Joe.

Kamado Joe – Grilled Pizza – Part I
I have made plenty of grilled pizzas using store-bought flat breads as the crust. They were delish, but I wanted to take my grilled pizza to that next level. I wanted to get that wood-fired thin and crispy crust with just a bit of char using some serious grill heat.
So the third time was definitely my charm!
In my other attempts, the raw pizza just ended up as a big ole' blob on my pizza stone. I was not able to slide the pizza off of the cutting board or pizza peel onto the pizza stone without making a big mess of everything. It was frustrating!
So I figured that one out, how to safely get the pizza from peel to grill, and it will be the topic of my next post.
This will be my first in a series of posts to help the first time grilled pizza enthusiast. I am sharing my own experiences as I learn how to make some serious good eats on my Kamado Joe.
Maybe what I learn will help you?
Let me know what your experience has been and what you want to talk about?
Check out my other Kamado Joe, Grilled Pizza, and JoeTisserie recipes and links here on my Outdoor Eats page.