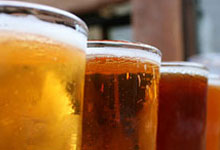 Holy cow, — five more new craft beers to add to my ever-growing list!
I have been out on a few camping and back-backing trips here the past few weekends. So I have been able to get out into different areas and locations to find some different craft brews in those smaller food stores as we stop to resupply or pick up something.


Craft Beer Merit Badge V
These are the latest five craft brews that I have tried. They are all awesome, no complaints. These all pair well with the essentials, like cold pizza, doing things outside, and standing around the grill or fire pit. At least one of them goes well with dehydrated meals, but I am sure they all would!
Okay, so these are the latest craft beers that I have tried:
– Wildcat IPA, Old Bust Head Brewing Company, $10.99 for a sixer of bottles
– Sunbeam Blond Ale, Big Ugly Brewing Company, $18.83 for a 64 ounce growler
– Rocker IPA, Big Ugly Brewing Company, $16.14 for a 64 ounce growler
– Reilly's Red Irish Style Red Ale, Devil's Backbone Brewing Company, about $10.00 for a sixer of cans
– Norfolk Canyon IPA, O'Conner Brewing Company $9.99 for a sixer of bottles
Yep, they were all good and I would buy any of these again.
I had my growler filled with Big Ugly Brewing Company's Rocker IPA and it accompanied me on a backpacking trip up to Virginia's Ramsey's Draft area of the George Washington National Forest not too long ago.
I was able to get a good chill on that growler as it soaked in the cold mountain stream water.
I was hoping to see a small trout or two as I watched that cold stream water and kicking myself for not having packed my fly rod! There was good water flow and deeper pools that might have held a fish or three. Well, at least I have a good reason to make another trip up here, hoping it will be soon!
We enjoyed sipping away the Rocker IPA while sitting around a small evening campfire fire next to Ramsey's Draft. I had toted that growler full of the Big Ugly Rocker IPA miles and miles inside my backpack. The growler performed flawlessly, no leaks, nothing dripped into my inner backpack. Check out that MiiR beer growler review here.
I have made a few more trips to Big Ugly Brewing Company, — Chesapeake's first craft brewery to fill up my growlers. I am looking forward trying more of their products and maybe getting the first ever Big Ugly Brewing Craft Beer Merit Badge!