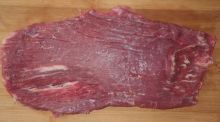 A good sharp beef jerky knife gets the job of making those beef jerky sized meat strips much easier.
I actually own several beef jerky knives. Each one has a specific function.
I use this Rapala fillet knife to remove the surface fat from the slab of beef. Many recipes and websites say that you must remove all of the fat. I am not sure those folks have ever made beef jerky? It's nearly impossible to remove all of it. Don't fret, this is trimmed good enough.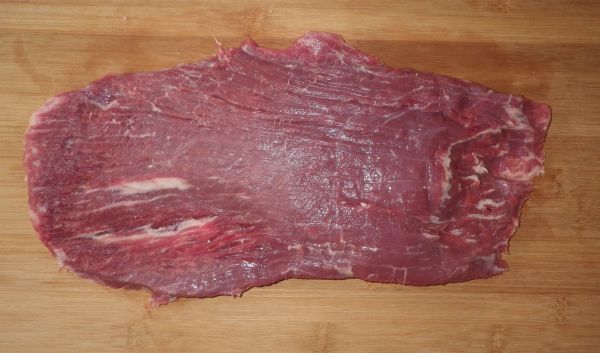 This is the Rapala fillet knife I use; –I have several of these fillet knives just for kitchen use. There not just for cleaning the days catch. They have a lot of positive Amazon reviews, –evidence of happy customers. The fillet knife is sharp out of the box and makes short work of getting most of the job done.
Once the surface fat has been trimmed away, partially freeze the meat to make the job of cutting meat strips much easier. It only takes an hour or two in the freezer. Make sure you lay the meat flat in your freezer.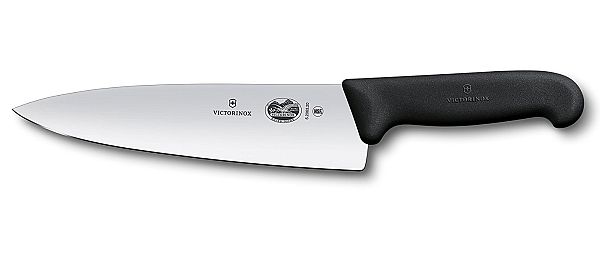 The Victorinox 8-inch Fibrox Chef's knife (above) or the Victorinox 7-inch Fibrox granton edge Santuko knife (below) are both part of my kitchen and my beef jerky knife arsenal. Either of these two knives will do an admirable job of reducing that slab o' flank steak down to manageable beef jerky size meat strips. Both are sharp out of the box, and easy to touch up when needed.
The granton edge helps to keep the meat from sticking to the blade, making it easier to get those thinner and consistent size strips for your jerky making. That feature makes it well used kitchen favorite for those cutting tasks.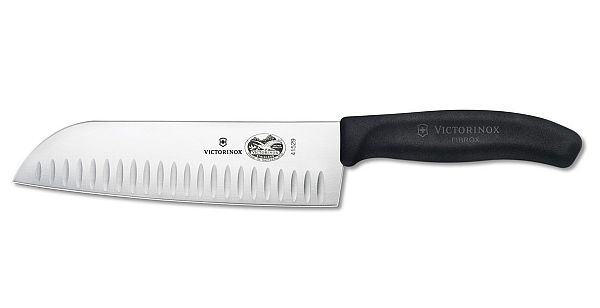 One drawback on both knives is that they do not come with a protective sheath. If you have a knife block, no big deal. I don't. I keep my kitchen knives separate from the "family" kitchen knives. That way, I know they will remain well maintained. This is the knife sheath I use to protect the edge, and my fingers.
Now you have a pile of meat strips all ready to marinate.
I have been experimenting with a lot of new flavor combinations and new ways to marinate the meat strips. Stay tuned for some of those new beef jerky recipes.