Making beef jerky is easy! All you need is your food dehydrator. Check out my food dehydrator page for all things dehydrators.
Who doesn't like beef jerky? You probably wouldn't be looking at this if you didn't!
Homemade beef jerky is my go-to snack when I am enjoying the outdoors.
Beef jerky bits are also the BFF's favorite as well! Actually, just about everything is their favorite?
Your own homemade beef jerky won't have all of those questionable "extra" ingredients such as flavorings, extracts, and modified this or that.
How To Make Beef Jerky
I have a good number of jerky recipes that I will share in the coming months. Since this is my first jerky recipe that I am posting, I will call this beef jerky recipe #1, and it will be part of my "How To Make Beef Jerky" series. I know it is not very imaginative!
I like this recipe because the marinade turns into a thick sauce like paste, making cleanup easier. The marinade also sticks to the meat better for flavorful homemade beef jerky.
Some notes first:
My local Walmart carries thinly sliced meat that take most of the grunt work out of making jerky. I use it for most of my jerky making for myself and the BFFs. On occasion, I will get a bit of venison from a buddy and need to slice up that myself. However, that will be the topic of a future post.
For this recipe, get the meat prepped first. Otherwise, the jerky marinade will thicken as the dry ingredients absorb the liquids.
After a batch or two, you may want to kick up the heat a bit by adding a bit more chili powder and crushed red pepper flakes.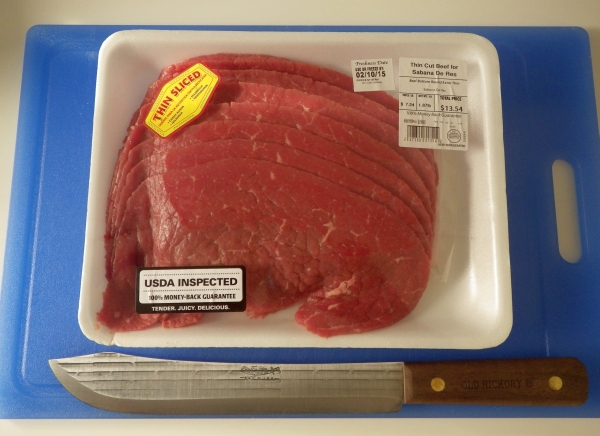 What you will need:
One 1-gallon, zip style bag to marinate the meat overnight in your refrigerator
Another 1-gallon, zip style bag to store all of that awesome homemade beef jerky
1-1/2 to 2 pounds of thinly sliced meat
For the jerky marinade: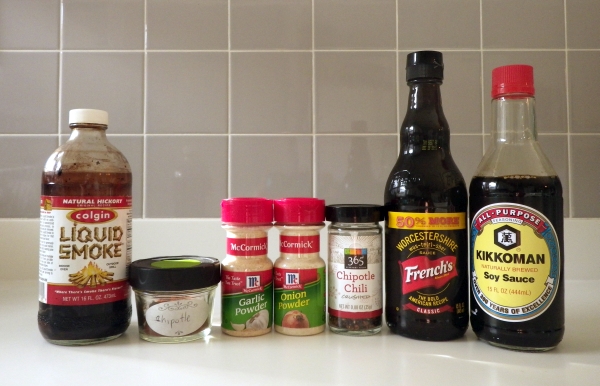 1/4 cup soy sauce
2 tablespoons Worcestershire sauce
1 tablespoon liquid smoke
2 1/2 teaspoons onion powder
2 1/2 teaspoons garlic powder
1 teaspoon chili powder (cayenne or chipotle are also good options)
1 teaspoon crushed red pepper flakes
1/2 teaspoon kosher salt
1/2 teaspoon fresh ground black pepper
Steps:
Take care of the meat first. Slice it into handy sized strips, like what you find in those packages at the local convenience store. You don't want them to be too long, I cut mine about 5 to 6 inch lengths so they fit in my dehydrator with ease
Trip away any excess fat, you know, those big chunky pieces. You cannot trim it all away. Lots of recipe books say that the extra fat will make the jerky go rancid faster. Mine never sits around long enough for that to happen. I think the fat adds another layer of flavor
Take the meat and put it in that zip style bag
In a bowl, mix together all of the marinade ingredients, stirring to combine well
The marinade will start to thicken up in no time. So don't take too much time. Pour the contents of the bowl into the zip style bag and mix to coat all of the meat
Refrigerate overnight
Take the soon to be jerky from the bag a piece or two at a time, unfold and flatten out, then place on to your dehydrator trays. Make sure that the pieces are not touching each other
I usually end up with 5 to 7 trays
Next, just dehydrate according to your owner's manual and your preference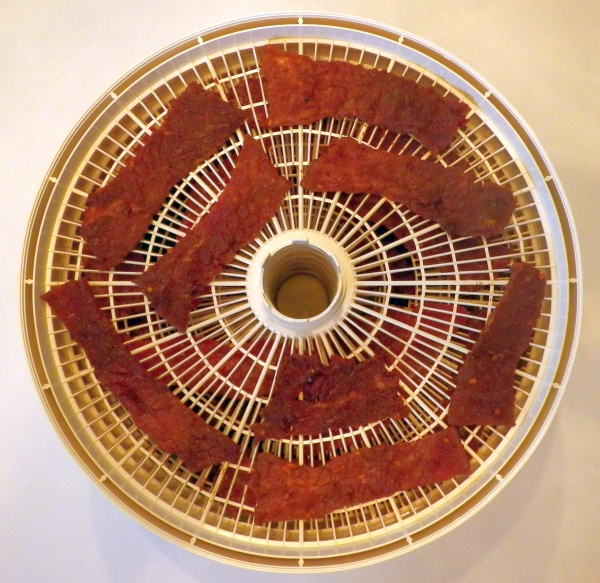 I will start checking for doneness in about 6 hours. Depending on how everything is looking, I might rotate the trays around, moving those at the bottom to the top.
After it is has dried, just scoop it into that other 1-gallon zip style bag and refrigerate.
When you're ready to get outside and do something just grab a handful and stuff it into a smaller zip bag.