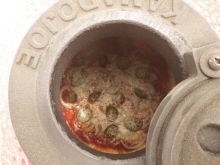 It is no secret that a smoky grilled pizza is one of my favorite things to make on my Kamado Joe. Wait! Cold smoky grilled pizza is also right up there on my "favorites" list.
This is my current grilled pizza dough recipe! I am always tweaking things to see if I can get better results.
This recipe makes one 12 inch crust for your grilled pizza. Enough for one plus leftovers for the next day. Don't forget the cold refreshing beverages!


Kamado Joe – Grilled Pizza – Part III
I have found that bread flour lets you make a thinner and crispier crust. All-purpose flour makes a thicker crust and puffs up more. It kind of reminds me of "delivery" pizza. Still all good, depends on your preference!
Kamado Joe Grilled Pizza Dough Recipe
Ingredients:
1 cup bread flour
1/3 cup warm water (not hot!)
1 tablespoon extra virgin olive oil, plus extra for oiling your bowl
1 teaspoon sugar
1 teaspoon active dry yeast
1 teaspoon kosher salt
Method:
Mix the water and yeast together in the bowl of a stand mixer.
Let stand for a few minutes until the yeast is dissolved and starts to get foamy.
Add oil, flour, and salt.
Knead the dough on low speed with a dough hook for 5 to 7 minutes, or knead by hand on the counter for 6 to 8 minutes. Add water, if needed, 1 teaspoon at a time.
When kneaded, the dough should form a smooth ball, feel smooth to the touch, and spring slowly back when poked.
Place the dough ball into the oiled bowl, cover, and let sit at room temperature overnight, or, up to 48 hours. I have not yet let the dough ferment any longer than this, have you? I might make this Friday night for a Saturday and Sunday grilled pizza.
You are fermenting the dough and letting the yeast do their thing, — and they are making you a really tasty grilled pizza crust!
I let mine set in an oven with the light turned on. I might crack the door open a bit as well, if I feel the temperature is too warm inside the oven.
When your ready:
Start the grill heating to the desired temperature. I like "screaming hot," or in other words about 800 degrees. Usually, I can get my Kamado Joe up in that range.
On a lightly floured work surface, roll out the pizza dough until you have it worked out into a 12 inch round. The dough should be about 1/8 or so inches thick.
Run a dough docker over the crust, or poke it with a fork several hundred times. A dough docker is a must-have if your making grilled pizza. It is easy to use and a real time-saver!
Set up your pizza peel. If you don't have a pizza peel, get one, it's a must-have for Kamado Joe grilled pizza. I give mine a really good layering of corn meal. The pizza slides right off the peel to the "screaming hot" pizza stone. No blobs of dough on that hot pizza stone.
Pick up the crust from your floured work surface and get it to the pizza peel as quick as possible. Then shape things back into a circle. Fold over the edges to make the outer crust if you have not already done so.
Kamado Joe – Grilled Pizza Toppings
Now top as you wish. I like pepperoni, onions, and jalapeno peppers on mine.
Kamado Joe – Grilled Pizza – The Grilling
Toss some wood chips into your hot charcoal if you want to get some smoky flavor on your grilled pizza.
Grill for 5 to 7 minutes or so, depending on the temperature of your grill. I grill mine anywhere from 500 to 800 degrees, the 800 degree range is preferred. As hot as I can get my Kamado Joe grill at that time.
I take a peek every minute or so to make sure the crust is not burning, — and to make sure the cheese is getting all melted and gooey.
Kamado Joe – Grilled Pizza – Taste Test
A thin crust pizza, without any of that soggy crust. A smoky grilled pizza makes for awesome lunch or dinner!
Sometimes I can get that awesome "picture perfect" light char on the gooey cheesy top. Not today.
Anyhow, this is how I make a Kamado Joe grilled pizza. Practice, practice, practice
Check out my other Kamado Joe and JoeTisserie recipes and links here on my Outdoor Eats page.