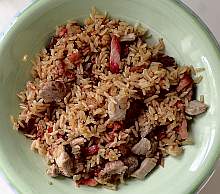 Okay – what to do with that Kamado Joe JoeTisserie leftover Pork Roast from the yesterday cook?
Midge is out of town and I have a fridge full of take-out leftovers. I need to do something today before breaking out the vacuum sealer tomorrow.


JoeTisserie Cherry Smoked Pork Fried Rice
I spent the day, among other things, getting the freezer all defrosted. I have plenty o' space in the freezer now. Of priority, I added a couple of heavy-duty glasses for cold refreshing adult beverages. I always wanted to do that.
The day has cycled between bluebird sunny skies and gray stormy looking clouds dumping out rain in nearby areas. Sometimes that rain is overhead.
I have a package of Johnsonville brats waiting to be cooked up, but alas, they might need to wait another day. A quick check of the online weather radar has another round of those "green" clouds coming my way. Sigh …
Oh yeah, back to what to do for dinner? How about whipping up some leftover JoeTisserie cherry smoked pork fried rice!?
Heck yeah!
Pulling even more leftovers out from the fridge, — take 2 slices of bacon and chop into smaller sized bits, about a 1/4 inch square or so.
Add the bacon bits into a hot frying pan. Cast iron if ya got it! Cook a bit and render down until you some nice tasty bacony pork fat to heat up the next round of leftovers.
Take a slab of that leftover cherry smoked pork roast, — just chop into smaller pieces. About the same size of pork bits that are in that box of leftover pork fried rice. Mix in the pork pieces into the frying pan with the bacon and bacon fat.
Stirring to get it all warmed up nicely.
Now dump in that leftover pork fried rice and mix it up. Keep stirring everything around. Get the entire mix all warmed up and tasty.

Okay, you know what to do next. Dig in for some awesome JoeTisserie cherry smoked pork fried rice leftovers.
Now, what can I do tomorrow?
Check out my other Kamado Joe and JoeTisserie recipes and links here on my Outdoor Eats page.