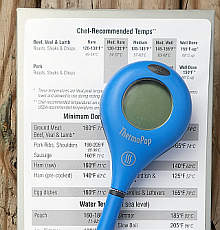 I needed a new thermometer for my Kamado Joe JoeTisserie grilling adventures. Check out my JoeTisserie review here.
The cheaply made housewares thermometer from the local big box emporium was just that, a cheaply made housewares thermometer.

ThermoWorks ThermoPop Review
I recently left it out overnight, my bust. Too much stuff going on over the weekend, you'all know the drill! It was one of those dewy nights were everything had a nice coating of water in the morning. However, that temperature display now had a segment that would no longer work?
I wasn't really sure how accurate it was anyway!? It did read close to my old faithful Maverick Redi Chek ET-733 dual probe thermometer. So it was probably close enough for backyard grilling. Don't tell the Food Police!
I had been looking at the ThermoWorks ThermoPop for a while. I am a subscriber to their mailing list and just so happened to get a 15% off email coupon. That email coupon for 15% paid for the shipping.
I did my usual price comparisons and read the product reviews on Amazon. The troubling part was the Amazon prices were much higher than what was advertised on the ThermoWorks web site? A lot higher! That made no sense!?
It didn't take long reading through some, but not all the product reviews and the customer questions and answers to make up my mind. The ThermoPop thermometers were being sold through a "reseller" and not through ThermoWorks. Hum, a reseller!?
Lesson learned again, do your homework! Research and review what other folks are saying about the product AND the vendor!
I clicked my way back over to the ThermoWorks web site and place my order there. In no time, I had the confirmation email and even a tracking number!
Yippee! I couldn't wait!

The box was here in no time. I was following the tracking number all the way to the house. It was almost like Christmas time, I was eager to get this baby and try it out. Above is a picture of the one I ordered. It is a really nice light weight unit with a handy protective sleeve to protect the temperature sensor for when it's not in use.
Trouble was, mine arrived DOA!
The folks over at the ThermoWorks customer service center were really great to work with. They sent a few tips for me to try, but none of these tips worked. So they sent me out a verified working warranty replacement. Again with a tracking number! Again, I was following the tracking number all the way to the house.
As promised, the warranty replacement ThermoPop worked like a champ! Yes!
Bill's ThermoPop Feature Review
Pro – Awesome customer service
The ThermoPop can be set for either Celsius or Fahrenheit, mine was preset for Fahrenheit. That setting can be changed with a button located on the back.
Pro – Can be set for Celsius or Fahrenheit
The ThermoWorks folks say the ThemoPop will provide a reading in 3 to 4 seconds. In my backyard grilling tests, I would agree with this.
I did try to time the readings. Fumbling around with my smart phone timer as I was trying to get a temperature reading didn't work out so well. You know, insert the temperature probe, look at the ThermoPop and wait, then look back at the phone timer.
Repeat!
Bottom line is that the 3 to 4 second reading is accurate.
Pro – Fast 3 – 4 second temperature readings
One feature of the ThermoPop is the rotating display. You can press a button on the rear of the unit, and it will rotate 90 degrees. Nice feature, but I don't think that I will find it all that useful for my own grilling.
Neither Pro nor Con – Rotating display.
The workable temperature range is advertised to be from -58 degrees to 572 degrees Fahrenheit or -50 to 300 Celsius. This range more than covers my backyard grilling needs for pork, poultry, and beef.
Pro – works over a wide temperature range
I don't think the unit is waterproof to the point this can be submerged in water? So could you leave it sit out next to your grill if rain is in the forecast? If you enjoy firing up the grill or smoker all year long like I do, sunny, rainy, or snowy conditions, –then I will leave this in my pocket. The unit is somewhat water resistant; ThermoWorks does rate the ThermoPop as having an internal protection factor of IP66. An IP66 rating means the unit is totally protected against dust and water spray.
I am sure that I will end up leaving this out overnight some day. Hope that IP66 rating means that its effective against morning dew and overnight rain.
Pro – water resistant
Overall, I can't think of any drawbacks after using this for a weekend's worth of grilling. Well, maybe the only drawback was getting a DOA ThermoPop on the first go-around. But the awesome folks at ThermoWorks sent out a verified working replacement soon as I let them know I had received a dud.
Overall, I don't think you can go wrong with one of these ThermoWorks ThermoPop thermometers if your in the market. Do your research and price comparisons.
Perhaps subscribe to the ThermoWorks email blasts and wait for a coupon like I did. Mine came in at less than $29.00, including shipping! A good deal in my book. Yes, this ThermoWorks ThermoPop was bought and paid for by me.
Check out my other Kamado Joe and JoeTisserie recipes and links here on my Outdoor Eats page.