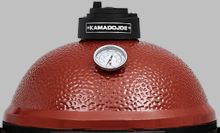 The Kamado Joe might just end up being your perfect grill!
The temperatures are warming up and it's time to get outside and do stuff! That means firing up your grill and enjoying some frosty cold beverages.
I have owned my own Kamado Joe Classic for just about a year. It is the best most adaptable grill I have ever owned.


My Best Grill – The Kamado Joe Classic
I was in the market for a new grill and smoker. My Weber kettle and Brinkmann smoker were quickly becoming backyard eyesores. They had made many a fine breakfast, lunch, and dinner meals. But now they were falling apart with rust in all the wrong places. Not to mention lots of dings and dents from being knocked over during the evening summertime thunderstorms common in my area.
A new Weber kettle grill was right at $250. I also had my eye on a big Weber smoker for $300 at one of the local home improvement emporiums. Yep, they are kind of pricey, but I had gotten many years of good use out of my old rusty backyard friends.
One Saturday, on my way to the over to the improvement emporium, I eyed a Primo ceramic cooker at one of those "Leisure" stores that sells pools, hot tubs, and associated outdoor items. It was a demo unit and they were cooking demo food. So I pulled in to take a look, hoping to get out before some pushy sales guy made his way over to me. I had been reading up on these, mostly about the Big Green Eggs.
What I saw was an assortment of ceramic type cookers, the Kamado Joe, the Primo, but no familiar Big Green Egg models.
With my guard down focusing on features, one of the sales guys saw his opportunity and moved in for the attack.
What we talked about on the Primo:
– a nice bit oval cooking area that could hold a lot of food
– the sales guy said you can pile the charcoal on one side for indirect two zone cooking
– the sales guy said the oval shape was better, direct cooking on one side, indirect on the other
– it was a big heavy duty thing which was good
– it was a smoker as well as a grill
– it also had a lot of rusty hardware from sitting outside
– the dome top thermometer was on the smaller side
What we talked about on the Kamado Joe:
– it had a stainless steel grate, no rusting
– it had stainless steel hardware, no rusting
– it had a nice big dome top thermometer
– it was also a big heavy duty thing
– it was a smoker as well as a grill
– nice classy bamboo side shelves
– I liked the muted red color
– the ceramic "looked" thicker than the Primo, although I had nothing on-hand to measure with
– the cooking area was smaller than the Primo
– it was a discounted, last year's floor model, the only one left
– it had a big pile of accessories thrown in for additional "bait"
– the sales guy said he would also throw in a bag of lump charcoal and some fire starters
I said would be back, I had to run by the local hardware store to check out the Big Green Eggs.
The Big Green Egg:
– it had a stainless steel grate, no rusting
– the hardware was painted, could not tell if it was stainless
– small thermometer
– it was a smoker as well as a grill
– the ceramic did not look as thick as the Kamado, but had nothing with me to measure with
– cooking area was about the same as the Kamado Joe
– the side shelves were not as nice, looked like a wide piece of fence board
– it did not have all of the accessories the Kamado Joe had
– was more expensive than the Kamado Joe
Now, a trip back to the house and fire up the internet for some quick research to compare the Kamado Joe, the Primo, and the Big Green Eggs. I like to take my time doing product research. But Midge convinced me that I should just go back and get the thing. I think she knew that there would be a lot of tasty food coming her way from this purchase and she wouldn't have to look at the my rusty backyard buddies any longer.
When Midge agrees on a purchase, I usually don't hesitate. So off to the "leisure" store we went after the Kamado Joe.
Over the past year, I have used my Kamado Joe just about every weekend and a lot during the week. Yes, even during the cold winter months I could be found standing close with a frosty beverage in hand. We have enjoyed burgers, chicken, ribs, pulled pork, bacon, pizza, and a lot of other successful grilled and smoked food experiments. So my Kamado Joe Classic is the best grill I have owned so far. No regrets!
Today I will be grilling some chicken breasts, — can't forget to grill an extra or two for our four-legged BFFs. Tomorrow's plan is a smoked beef brisket, — yum! I also found a recipe for smoked pastrami, so now I have a hankering to try that next weekend.
In future posts I will talk about what I have learned cooking and using my Kamado Joe, those same skills would be used for any ceramic cooker you might consider. I am always learning when using this very versatile grill, smoker, pizza oven, you name it.
Check out my other Kamado Joe and JoeTisserie recipes and links here on my Outdoor Eats page.