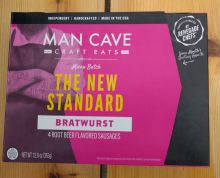 Today was going to be burgers on the grill day, but as I was eyeballing the meat selection, I saw some Man Cave Root Beer Bratwursts, ON SALE!
I even had a $1.00 Man Cave coupon.

Man Cave Root Beer Bratwursts
No burgers for today, maybe for the next weekend Kamado Joe cookout. I tossed in that box Man Cave Root Beer Bratwursts and then rushed over to pick up some onions, peppers, and brat buns.
Not too long ago I picked up a box of Man Cave Bacon, Beer & Cheddar Cheese Bratwursts for Kamado Joe beer and onion hot tub.
Over the recent Thanksgiving Day family get together, I told my brother how good these were. The Man Cave website says their products are available in his area, but we never did find any of their offerings in any of the local grocers.
The Man Cave website says these Root Beer Bratwursts are made with "Fresh pork shoulder with cushion, caramelized onions, thyme and smoked peppercorns slathered in a bath of craft root beer."
Man Cave Root Beer Bratwursts
So, making bratwursts in a Kamado Joe hot tub is really easy to do
.

This is hands down one of my favorite Kamado Joe bratwurst cooking methods. Besides the brats, bell peppers, onions, and usual grilling stuff, you'll need two 12 ounce bottles of beers and an aluminum foil pan.
I order these Weber 6414 drip pans on Amazon; they are a lot cheaper there than down at the local hardware emporium. They fit perfectly sitting on the Kamado Joe Classic grill grate, or down on the heat deflector if needed. They're a real multitasker, used as drip pans, cook pans, steamer pans, baked bean pans, or as a …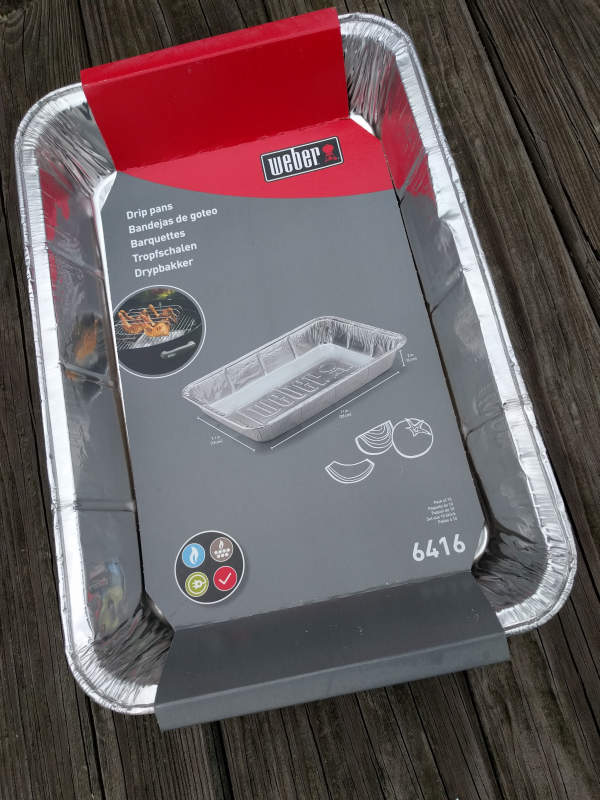 Set up your Kamado Joe for indirect cooking using your heat deflector plate. Get the temperature up to a steady 350 °F (176 °C). Oh yeah, clean that grill grate while you're at it.
Grill for 15 to 20 minutes or so, turning every now and again so these Man Cave Root Beer bratwursts don't burn.
When you're finished grilling, put these Man Cave bratwursts in that aluminum foil pan on top of those sliced onions and peppers. Pour in both bottles of beer. Then cover the pan with aluminum foil.
Remove the Kamado Joe heat deflector. Now put that foil pan over the direct heat to steam the brats for 20 to 25 minutes, or as long as you want. This time, I went 45 minutes, as I was having some quality time with the K9 clan. Try to keep the Kamado Joe temperature around 350 °F (176 °C), no higher. We want a slow steam, not a full on beer boil.
Were they good?
Heck yeah! These Man Cave Root Beer Bratwursts were downright tasty good eats. Topped with a big heap of those beer steamed onions, peppers, and a good wide swath of coarse ground mustard over a bratwurst bun, you just can't go wrong. Another meal fit for the king of the man cave.
Now I have another $1.00 coupon towards another Man Cave product. My local grocer only carries the Man Cave bratwursts. The Man Cave website is chock full of other interesting products to hunt down for some quality outdoor grilling.
Check out my Outdoor Eats page for other Kamado Joe grilling and smoking recipe ideas.