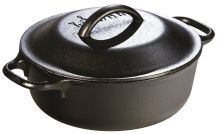 Lodge L2SP3 Cast-Iron 2-Quart Serving Pot
I am a big fan of cooking outdoors on my Kamado Joe grill. Lighting up that pile of lump charcoal and then watching the flames dance about just melts away the stress. Toss on a few pieces of wood for smoke flavoring, well it just brings out that inner caveman in all of us.
I have researched a lot of cast iron products for use on the grill. Of everything I have researched, Lodge has stood out above the rest. This product review is on the Lodge L2SP3 Pre-Seasoned Cast-Iron Serving Pot, 2-Quart, –or in my view, the perfect Kamado Joe sized 2-quart dutch oven.
I have owned one of these for a number of years now, and have logged a lot of outdoor grill time with this baby. While it makes an awesome dutch oven for the grill, or campfire, it works equally as well for your indoor kitchen as well.
Click here for more information on Amazon.com
Rugged Dependability
You need rugged cookware when cooking outdoors on your grill. Cast-iron gives you that time-tested, pioneer like, chuck-wagon style rugged dependability that will last for generations. No parts to melt, nothing to come loose, just years of 100% dependability.
Maintenance is a breeze.
After cooking up that grub, you just need to do a quick clean. Then, after drying it, just wipe down the cast-iron with a bit of oil to maintain that non-stick seasoning. I use coconut oil to coat my cast-iron cookware because I use it in my day-to-day cooking. Nothing special, use what you have on hand.
All Around Usefulness
Besides the cast-iron even heating and excellent heat retention capability, this dutch oven a true multi-tasker. You can grill up a pan of beans, slow cook a favorite stew, or whip up a tasty blueberry cobbler, going from the grill, the stove, or from the campfire straight to the table.
This 2-quart size makes it ideal for a one- or two-person meal. Or, use it to make a side dish to feed the crowd. Here I am cooking up a mess of bacon and onions to doctor up a can of store-bought baked beans.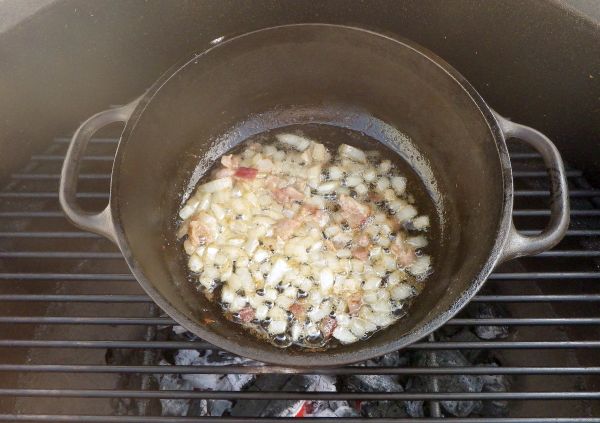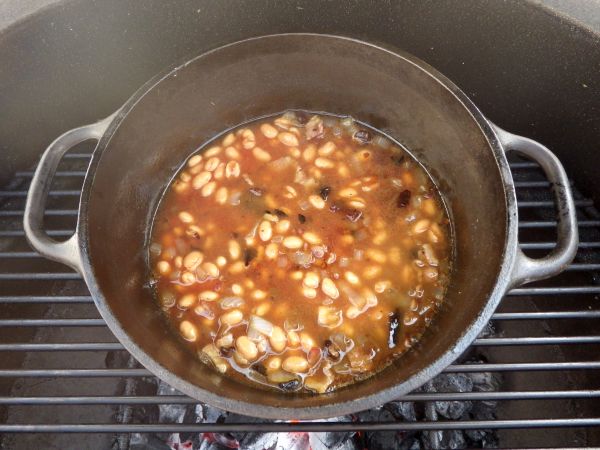 Details
Weight: 6 pounds 8 ounces
Lid weight: 2 pounds 6 ounces
Pan weight 4 pounds 2 ounces
Edge to edge width: 8 1/4 inches
Handle to handle width: 10 3/4 inches
Pan height: 3 inches
Pan with lid height: 4 5/8 inches
Manufactured in the good ole' U.S.A.!
Get more details on Amazon.com
Customer Reviews and Scores
The customer reviews at the time of this review are positive overall, nearly 400 reviews averaging 4.8 of 5 stars for the folks that have taken the time to provide feedback. With this many happy customers, you can be sure of getting a quality product you will be happy with!
Lots of folks like this because of its smaller size and comment that it is the perfect size for one or two. So if you're cooking something for yourself, then this just might be the ideal means to whip up some dinner.
I use mine nearly every time I fire up the grill to cook something. This past cook was a batch of smoky baked beans to go with my brats and a frosty cold beverage or two.
Some folks say this Lodge dutch oven is too heavy. I cook a lot using my cast-iron, so perhaps these same folks may not have the same experience that we do?
Conclusion
You can't go wrong with having the Lodge L2SP3 cast-iron 2-quart serving pot in your arsenal of cookware. Whether you plan on using it in the kitchen, or out on the campfire, this thing will provide years of dependable service. Lodge should really call this a dutch oven, I wonder why their marketing decided to name this a "serving pot?"
I own a lot of Lodge cast-iron, including a number of vintage pieces I have picked up over the years. Anytime I hit a weekend yard sale, I always look for the older cast-iron, hoping to one-day score a turn of the century something or another cast-iron cooking pan that might have been rattling around in the back of some cattle driving chuck wagon! What about you!?
Okay, click here get further details on Amazon.com and maybe even pick one up