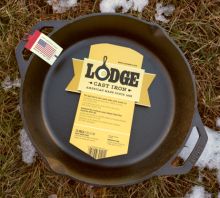 The Lodge L10SKL cast iron pan might just be the perfect accessory for my Kamado Joe Classic. We found this late one night while trolling through the Amazon Lodge cast iron offerings for anything new.
I am familiar with most of the Lodge cast iron product line. This Lodge L10SKL cast iron pan is something new I hadn't seen before.
I don't recall seeing this before, so I hit the "Buy now with 1-Click" button. Yeah, I was tired and it was late, and you know what I am talking about? It is all too easy to click that button thinking of what you might be able to do with a new piece of cast iron cookware.


Lodge L10SKL – Review
I had visions of this new Lodge L10SKL cooking something on my Kamado Joe Classic. It's a perfect fit.
The dual loop handles are what caught my eye.
Until this time, I had been using my Lodge L8SK3 skillet. It works great, but the handle really kept if from being fully functional on the Kamado Joe.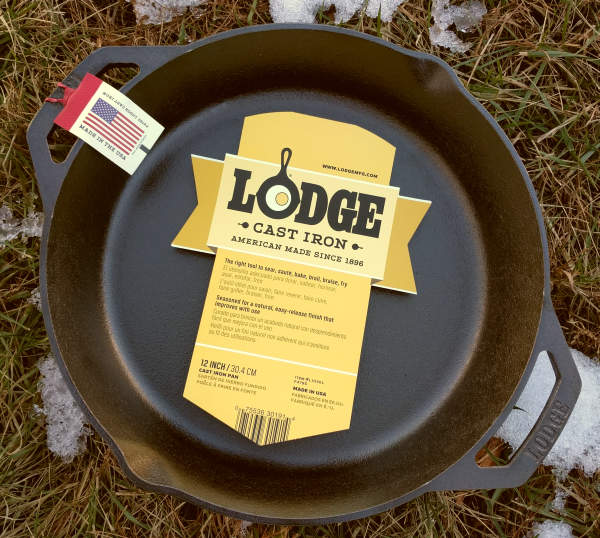 With that Amazon Prime shipping, the Lodge L10SKL cast iron pan landed at my front door in no time.
So I decided to whipped up a batch of something on my Kamado Joe classic as of test of my new Lodge L10SKL cast iron pan.
Lodge L10SKL – Specifications
But first, these are my out of the box specifications.
● Weight: 7.75 pounds
● Handle to handle width: 14 5/8 inches
● Pour spout to pour spout width: 12 5/8 inches
● Bottom inside edge to inside edge: 10 inches
● Top inside edge to top inside edge: 11 3/4 inches
● Top outside edge to top outside edge: 12 1/4 inches
● Bottom edge to top edge: 2 1/4 inches
● Preseasoned: yes
● Dual loop handles are a plus
● Fits perfectly on my Kamado Joe Classic, even with the dome lid closed. Folks who own other standard size ceramic grills with an 18 inch grates will find this a useful addition to their outdoor cookware arsenal.
To start, I pulled off all of that sticky stuff holding those Lodge labels. Then I gave it a good rinse in the kitchen sink followed by a coconut oil wipe down. The Lodge L10SKL comes preseasoned, so we're ready for a cookout!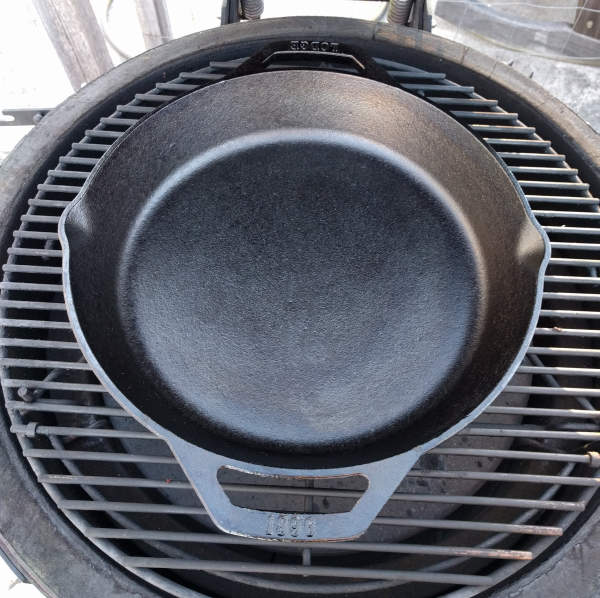 I was in the mood for some pork curry. So I made up a batch of my Kamado Joe coconut curry pork meatballs.
Lodge L10SKL – Performance
The Lodge L10SKL is a winner.
I had just finished smoking a batch of meatballs. I put that skillet onto a 350 °F temperature stabilized grill and it warmed up in no time.
Soon I had the aromatics of a nice curry sauce sautéing in the pan. I was able to knock out the recipe and had plenty of cast iron cooking surface area to work with.
Experience is learn-by-doing. You'll need some barbecue towels to handle and carry the hot Lodge L10SKL cast iron pan from the grill to the table. I have a big pile of these barbecue towels. They easily stand up to the heat from the cast iron. Check out my earlier review of these durable and handy barbecue towels.
Clean up was a breeze. I literally just wiped out the remaining food bits with a folded paper towel. A quick warm water rinse was all that was required. Of course, we did thoroughly dry the pan and gave it a nice wipe down with thin coat of coconut oil.
So head over to Amazon and pick up one of these Lodge L10SKL cast iron pans for your own outdoor grilling adventures.
Next up is the Lodge L10SC3 cast iron cover. I should have it in a few days.
Check out my other Kamado Joe and JoeTisserie recipes and links here on my Outdoor Eats page.