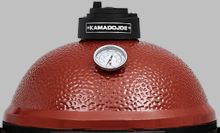 Today was one of those Plan B days!
I had planned to get up early and head out fishing for some quality outdoor time! But that was not to be the case today.


Kamado Joe Smoky Balsamic Grilled Onions
Yesterday, I spent the day knocking out those weekend chores. You know, cutting the grass, pulling up those weeds, fixing this and that, doing stuff that needed to be done round the homestead.
After a day of working outside in 100 degree temperatures, I was feeling a bit under the weather. I was dehydrated! I was way dehydrated!
After a restless dehydrated night, I decided not to spend another day outside in those temperatures. I was still drinking a lot of water to make up for what I had lost. Maybe next weekend if I plan better. The heck with those chores! Knock those out after the fishing, — if there is time that is.
Anyhow …
Today, I whipped up a batch of smoky balsamic grilled onions on my Kamado Joe to top some pepper jack cheeseburgers. I also had some leftover homemade avocado mayo with a tad bit of anchovies added for some over the top flavor.
All I can say is that these burgers were way awesome! Maybe not as good as a day spent fishing, but pretty darned close!
Whip up a batch of smoky balsamic grilled onions and try some for yourself!
This is what I did, but you can make it how you want! Plan on about an hour to an hour and a half or so to make these. Plus any extra time for the cheeseburgers, beans, or other fixin's!
Start up your grill to get things going and preheated and set up for direct cooking. I added a fist size chuck of cherry wood into the hot coals for some added smoke flavor.
Use your cast iron cookware. Don't bother with that thin lightweight fancy ass cookware as will be wrecked because of the high heat. If you have your great grandmothers cast iron, use it for some extra flavor and memories. More on that sometime in the future!
Anyhow, lets get started!
You will need:
– 3 or so medium size yellow onions sliced thin
– About 1 or 1 1/2 tablespoons bacon fat
– A good sprinkle or so of kosher salt over the top of the raw onions
– 3/4 cup of balsamic vinegar
Cook over medium high heat, cook those onions until they have wilted down and browned up. Stir around every few minutes so they don't burn.
There won't be much left of them when they get good, smoky, and caramelized.
This took me about an hour or so running the Kamado Joe at 400 or so degrees. Every 2 or 3 minutes I would open the grill dome and give everything a good stir and getting a good whiff of that added wood smoke.

When the onions have cooked down and have caramelized, add in that 3/4 cup of balsamic vinegar. Stir everything up really good.
Continue cooking until the balsamic vinegar has reduced and the mixture has thickened up.
When it looks right, pull those smoky balsamic grilled onions from the grill and cover them.
Now, cook up those burgers and add some cheese if you have it!
I had some leftover homemade avocado mayo with anchovies made from the other day. This is some good stuff! No anchovy taste, — the anchovies add a bit of that "umami"
Dig in and enjoy! Think about the lesson here, fishing first, grilling second, chores last. Start planning for that fishing trip next week!
Check out my other Kamado Joe and JoeTisserie recipes and links here on my Outdoor Eats page.