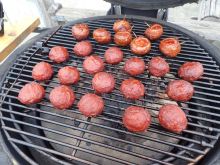 This is one of my favorite weekend recipes for make ahead lunches and snacks; Kamado Joe smoked meatballs with a honey sriracha sauce. So get outside and fire up your Joe.


Kamado Joe Smoked Meatballs with Honey Sriracha Sauce
Today, I am using some of my diminishing supply of cherry wood for that added wood smoke touch of flavor. Honey and pork are popular parings, like beer and, well, like beer and everything else.
Cherry produces a mild wood smoke and adds a nice reddish color to what you're smoking. All things considered, cherry is one of my favorite smoking woods.
For more on wood smoke and smoking wood, and how you can change up your barbecue game, go check out this cheap reference on Amazon. It's a no-fluff guide to wood smoke and smoking wood.
Check it out here on Amazon
and pick up a copy.
Today, I made a bunch of Kamado Joe smoked meatballs using Johnsonville Hot Italian Sausage. These are really easy to make.
Some of the other fun names for this Kamado Joe recipe are Honey Sriracha pork nuts or Honey Sriracha pork balls, — depending on the occasion.
You'll need to make a bunch because they'll go quick when the neighbors get a whiff of what is going on in your backyard.
Johnsonville Hot Italian Pork Sausage
First, take that 12-ounce package of hot Italian pork sausage and divide and form into 9 equally sized meatballs. Repeat for however many 12-ounce package of pork sausage you might have.
Johnsonville should offer these, all prepackaged and ready to go.
Second, sprinkle on some of your favorite pork rub. Of course, this could be an optional step. Here I am using some mango-chipotle rub from a recent pulled pork weekend. Yep, pull out what leftovers you might have.
Third, I had some leftover bacon strips from yesterday's cook, my smoked bacon wrapped bratwursts. Man, those were good. I have a few left that I kept hidden away from those nosy neighbors. Since I have some leftover bacon slices, why not make up a few of my double pork meatballs?
Lastly, set the meatballs on the smoker grate and let the smoking commence for about one hour or until the center of the meatballs reach 160 °F (72 °C) and the bacon firms up nicely. From time to time, be sure to give them an turn.
Honey Sriracha Sauce
To make the honey sriracha sauce, over low heat, combine:
– 1/4 cup sriracha sauce, use the real stuff
– one tablespoon or two of decent honey
– one splash or two from that beer you're drinking, enough to thin it down into a barbecue mop consistency
When those Kamado Joe smoked meatballs are half done, start coating them with that Honey Sriracha sauce.
Give the meatball tops a slathering.
Wait several minutes until the sauce sets up and caramelizes a bit.
Give the smoked meatballs a turn then slather with another coating of honey sriracha sauce.
Repeat several more times until you run out of the honey sriracha sauce.
Taste Test – Smoked Meatballs with Honey Sriracha Sauce
I think you'll agree, the sweet heat from the honey sriracha sauce knocks these pork balls out of the park and into the parking lot!
These are a favorite for mid-week brownbag lunches. Add a dollop of tomato sauce or a squirt of sriracha sauce makes for that perfect pick me up lunch break. See, leftovers aren't so bad after all.
So try these Kamado Joe smoked meatballs with honey sriracha sauce next time you fire up your Joe.
Give these a try and leave me a note, what did you think?
See my Outdoor Eats page for other Kamado Joe and JoeTisserie recipes.