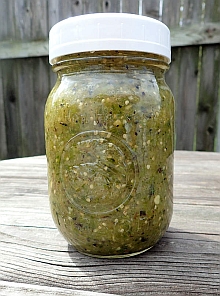 Yes, it is finally Friday, the weekend is almost here!
Today, I decided I was going to make up a batch of grilled chili verde sauce on my Kamado Joe.

Kamado Joe – Grilled Chili Verde Sauce
Us local folks are still recovering from the deluge of rain we had. Over the last 3 days, I measured in at 11 inches in the backyard rain bucket. The local news folks said up to 18 inches in some places!
The local hiking trails are going to be schmucky! The local rivers are running still high and overflowing their banks. Guess staying close to home and knocking out some of those chores will the order of the day, … well maybe, later …
I have a bunch of leftover Kamado Joe JoeTisserie pulled pork with a kiss of cherry wood smoke that I just made up last weekend. I figured that making up a batch pork chili verde would make a good lunch and get me ready to tackle some of those chores.
Kamado Joe – Grilled Chili Verde Sauce – Ingredients
Not following any particular recipe, this is what I did.
– 1 pound of tomatillos, husk removed and washed
– 1 medium yellow onion, cut in half
– 2 poblano peppers
– 2 cloves garlic, rough chop, more if you want
– 1/2 teaspoon fresh chopped oregano
– 1/2 teaspoon kosher salt, or to taste
– Fresh ground black pepper to taste
Kamado Joe – Grilled Chili Verde Sauce – Method
Fire up the Kamado Joe.
Lay out the tomatillos, onion, and poblano peppers on the grill grate to roast, soften, and get a nice char. Turn frequently for even cooking and getting some nice char on all sides of the tomatillos, onions, and the poblano peppers.
When the veggies have softened, put them in a bowl and cover with plastic wrap. Yes, the bowl will be warm, if not hot, as everything steams to doneness. Let the veggies cool down to a manageable state, to the point you can handle them without gloves.
Another reason to let them cool is that hot food will super heat the air inside the blender or food processor and blast out the chili verde chunks all over the place, shellacking the kitchen with a nice coating of green chili verde. Not really the reason why we're making up a batch is it?
Okay, after the veggies are cool, remove the stem and the seeds from the poblanos. Then put everything into a blender or food processor. Press that start button and let it run till the chili verde is nice and smooth. Have a taste, add more salt or pepper if needed.
Let sit overnight in the fridge so the flavors all have a chance to blend. Tomorrow, I will make up some of that Kamado Joe Pork Chili Verde, Yum!
Kamado Joe – Grilled Chili Verde Sauce – Taste Test
This Kamado Joe grilled chili verde sauce might just be the new favorite. These blended southwestern flavors hit the mark for my leftover Kamado Joe pulled pork chili verde.
This stuff is also good on hotdogs. Way better than 'chup, you know, that red stuff in a squeeze bottle.
Check out my other Kamado Joe and JoeTisserie recipes and links here on my Outdoor Eats page.