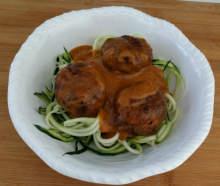 Up for today are some Kamado Joe coconut curry pork meatballs with spiralized zucchini noodle.
Coconut curry meatballs and zucchini noodles are a keto and paleo favorite.
This is real easy to make.
So let's get going.

Kamado Joe Coconut Curry Pork Meatballs
Set up your Kamado Joe for indirect cooking, and stabilize it at a 350 °F temperature.
Wood smoke is always a nice no calorie, paleo friendly, spice. Don't worry these pork meatballs will not absorb that much wood smoke flavor. They only take about 30 to 45 minutes to get to temperature.
First, we'll make up some pork meatballs. You'll need:
● 1 1/2 pounds ground pork
● 1 cup finely shredded carrots. About 4 or 5 carrots, use the fine shredding side of the box grater
● 1 tablespoon fresh grated ginger
● 1 teaspoon toasted sesame oil
● 3 tablespoons cilantro leaves, minced
● 2 shallots, minced
● 1 tablespoon curry powder
● 1 teaspoon kosher salt
● 1 teaspoon fresh ground black pepper
Take a few extra minutes when pulling those cilantro leaves from the stems. Those stems can be composted, or better yet, freeze them with other veggie scraps to make a nice bone broth. Check out this earlier post on Kamado Joe Bone Broth.
In a bowl, hand mix together all of these meatball ingredients. This is enough to make 12 to 15 meatballs. So just reach in and scoop out handful and from into a ball.
Once your Kamado Joe has stabilized at 350 °F, cook these pork meatballs until the internal temperature reaches 160 °F. Set aside when finished.
Kamado Joe Coconut Curry Sauce
Keep your Kamado Joe is still humming along at 350 °F with your heat deflectors in place. Put your favorite cast iron pan in to come up to temperature.
We recently picked up and reviewed the Lodge L10SKL 12-inch cast iron pan. It's a great addition for outdoor grilling. Cast iron can do it all.
For the Kamado Joe coconut curry sauce, you'll need:
one 14-ounce can full-fat unsweetened coconut milk
● 1/4 cup smooth all-natural almond butter (don't use any brand with added sugar)
● 2 tablespoons curry powder
● 1 tablespoon low-sodium soy sauce
● 1 teaspoon sriracha sauce
● 2 teaspoons honey
● 1 shallot, minced
● 1 3-inch piece of lemon grass, minced
● 1 teaspoon toasted sesame oil
In your blender or food processor, mix the coconut milk, almond butter, curry powder, soy sauce, Sriracha sauce, and honey. Set aside until needed.
Once your cast iron pan is up to temperature, add the sesame oil. Sauté the shallot and lemon grass for a few moments.
Stir in and combine the coconut milk mixture.
Next, this a dome lid up step, add in your pork meatballs and let everything simmer for about 20 minutes, stirring frequently.
Whip up some of your spiralized zucchini noodles (zoodles), bowl it up and dig in. We use this inexpensive spiralizer, available from Amazon for under $10.00.
If you have leftover cilantro or lemongrass, check out my Food Dehydrators page for tips on preserving recipe extra.
See my Outdoor Eats page for other Kamado Joe and JoeTisserie recipes.