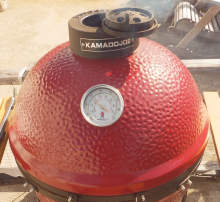 Grilled Bratwursts in a hot tub is probably my favorite Kamado Joe bratwurst cooking method.
These are real easy to make. You'll need to make a bunch of these grilled bratwursts once your neighbors get a whiff of what is going on.
Today is shaping up to be the better half of the weekend. Tomorrow, yet another cold front will have made its way into my neck-of-the-woods with a rain and snow mix to coat everything.
So let's get started …

Grilled Bratwursts on the Kamado Joe
No special grilling tools are needed for these Kamado Joe grilled bratwursts. All you need are your long handled grilling tongs. I have a good number of these as should you. Pick up several sets when the grilling goods go on sale.
Besides the brats, bell peppers, onions, and usual grilling stuff, you'll need two 12 ounce bottles of beer and an aluminum foil pan.
What kind of beer? Use what you have in the fridge. For grilled bratwursts, I like a darker beer such as a porter or stout, — if I have any on hand. Just use what you have on hand.
What kind of aluminum foil pan? I order these multitasker Weber drip pans on Amazon; here, they are a lot cheaper than at the local hardware or grocery emporium. They fit perfectly sitting on top of the Kamado Joe Classic grill grate, or sitting down on the heat deflector. Order yourself a bunch because you're going to need them. They come in a pack of 10. They're perfect for when you're making up a package of grilled bratwursts or maybe some Kamado Joe bacon.
Those single serve grocery store foil pans are just way too expensive and they come with that plastic top that just gets thrown into the recycle bin. What a waste. Get something that is up to the task of grilling.
Preheat the Kamado Joe
Start by setting up your Kamado Joe for indirect cooking using your heat deflector plate. Get the temperature up to a steady 350 °F (176 °C). Oh yeah, clean that grill grate while you're at it.
It takes me a good hour to get a rock steady even temperature on the Kamado Joe. Getting all of that premium Kamado Joe ceramic heated takes time, but it's well worth the effort.
Prep the Veggies
Now is a good time to cut up those peppers and onions. You're going for thinner slices here.
Once they're all cut up, mix and layer those peppers and onions in that Weber foil pan.
Grilled Bratwursts on the Kamado Joe – Getting Started
Once you're Kamado Joe is running at a steady 350 °F (176 °C), add a chunk of your favorite smoking wood if want. These Kamado Joe grilled bratwursts won't soak up that much smoke.
Give the smoking wood a few minutes to get going. You should see a lot of white smoke. For a quick cook such as these grilled bratwursts, that white smoke is fine. Check out my book titled Wood Smoke And Smoking Wood: A Guide To Better Backyard Barbecue. It's your missing manual and wood smoke how-to guide.
Now, plop down those bratwursts on that cleaned up grill grate. Close that Kamado Joe dome lid and wait a few minutes. Now give the grilled bratwursts a turn; we don't want to burn them. Do this every few minutes until they cooked through. It will take you about 15 to 20 minutes with the Kamado Joe running steady at our target temperature of 350 °F (176 °C).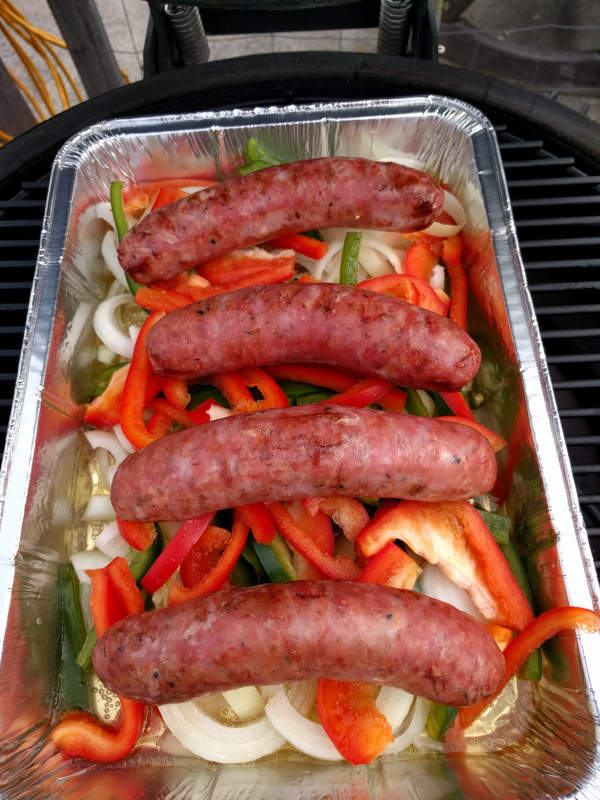 Grilled Bratwursts on the Kamado Joe – Into the Hot Tub
When the grilled bratwursts are done, transfer them into the Weber drip pan and pour in both of the beers. Cover the Weber drip pan with aluminum foil.
Remove the Kamado Joe heat deflector. Use your heavy leather welding gloves or a pair of these Lodge leather gloves made for handling hot cast iron cookware.
Now set that beer filled hot tub of grilled bratwursts, peppers and onions on the grill grate, close the Kamado Joe dome lid, and watch that temperature. We're still aiming for that steady target temperature of 350 °F (176 °C).
Let them steam for at least 30 minutes, longer if you can stand it. Keep those neighbors away, see if you can keep them busy, — get them to cut your grass, make a beer run, or rake some leaves while they wait.
Grilled Bratwursts on the Kamado Joe – Taste Test
Time to get the BFF in from her nap while I fix up these up these grilled bratwursts with some of those beer steamed peppers, onions, a bit of homemade spicy horseradish mustard, — yum!
Well, take a bite, what do you think?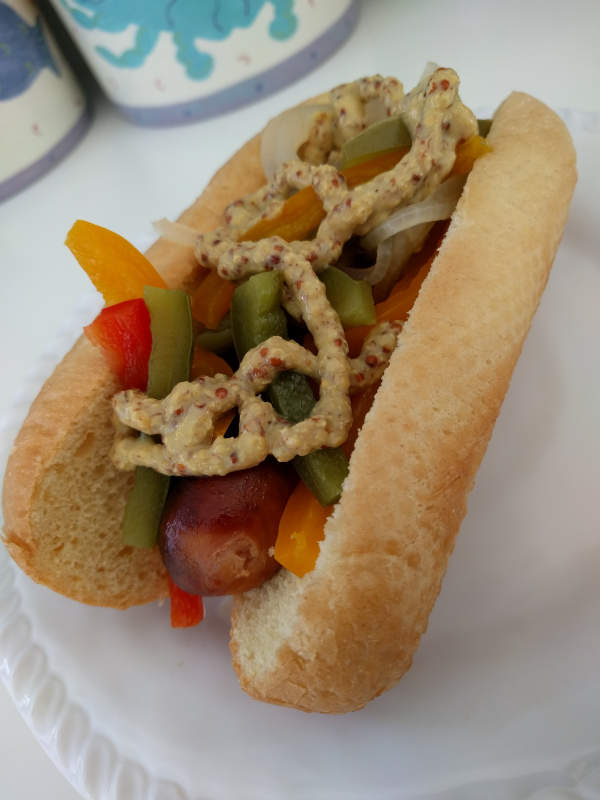 Check out my Outdoor Eats page for more of those Kamado Joe recipes.