Today, for a bit of lunchtime table fare, I fired up the Kamado Joe. I had a few bratwurst in the fridge that were begging for some outdoor grilling action.
Today is shaping up to be the better half of the weekend. Tomorrow, yet another cold front will have made its way into my neck-of-the-woods with a rain and snow mix to coat everything.
Grilling is one of my favorite outdoor activities. The daily 9 to 5 stress just melts away as my inner caveman awakens. The fire, the smoke, the food, the tantalizing aroma of it all mixed together. I can't forget to include the cold refreshing beverage(s).
I own three outdoor grills (for now).

A propane powered Browning with two cast iron burners, about 3 years old and still going strong.
A charcoal powered Smoky Joe made by Weber that I have had for 5 to 6 years. It is in tip-top shape with a bit of leg rust. But hey, who doesn't have a slight case of that?
The newest addition to the grill family is my Kamado Joe ceramic cooker. It is of the same ilk as the Big Green Egg. Early this year, I found this as a heavily discounted end-of-model-year floor display with a good number of accessories thrown in. I was waffling over its purchase, –Midge convinced me to get it! I admit, there was not much in the way of arm-twisting involved.
How many grills do you own?
After almost a year of ownership, I am still learning how to use the Kamado. One bit of knowledge I have finally picked up is that the Kamado Joe does not need all that much in the way of charcoal in the firebox. I only added a small amount lump charcoal to what remained after my last cook. If I were to measure it, there was probably 6 to 8 cups total.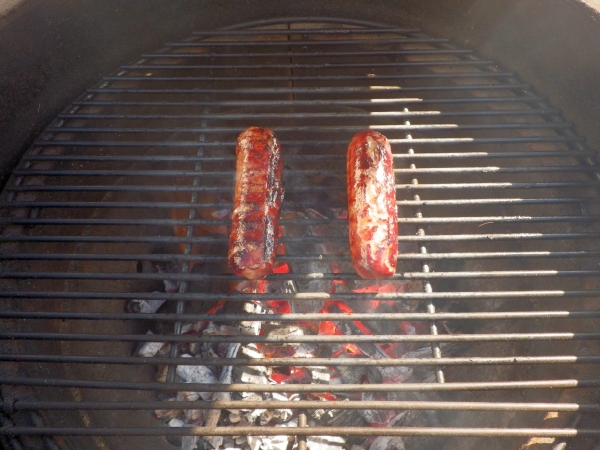 In the past, I would just load up the Joe for cooking burgers, brats, ribs, or what have you. Now I am a bit more miserly with the charcoal and find that the grill heats up much faster, –probably due to better airflow.
Time to get the BFF in from her nap while I fix up these brat's with a bit of spicy mustard and some jalapeno's, — yum!
Check out my Outdoor Eats page for more of those Kamado Joe recipes.