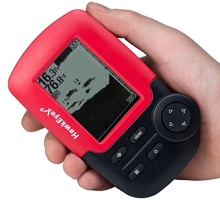 While shopping for fish finders on Amazon I ran across a neat little portable unit manufactured by Hawkeye Electronics. They had several models, but I am a fan of the standard grey scale screen that is easier to see in full sunlight so I picked up the Hawkeye FT1PX Kayak Dot Matrix Fish Finder



Trying out the Hawkeye FT1PX Kayak Fish Finder
I ordered the HawkEye FT1PX FishTrax Portable Dot Matrix Fish Finder on Amazon Prime, it arrived in no time! Yippee Amazon! I was able to take a quick read through the owner's manual the day it arrived. It looked easy enough, I decided to leave everything in the "out of the box" mode.
Today, I took it out on its maiden voyage, paddling my Tarpon 140 fishing kayak around a nearby pond to see how it performed and get to know how it worked. Mostly, I was interested in how deep this pond was, and get some idea what the bottom looked like.
Of course, I brought a rod or two, — just in case!
The FT1PX take 4 AAA size batteries. The manual says the batteries ought to last 30 hours or so. Today, I put about an hour and a half on the first set.
Most of my fishing is in shallower waters, so a fish finder sporting a wider cone angle is an important feature. The Hawkeye website specifications shows 14/26 degree transducer beam angle.
Paddling around and watching the fish finder screen, I decided that I probably need to pick up the mounting bracket. I was floating the transducer next to the boat. As I was paddling, the drag of the transducer was tugging at the fish finder.
I was really surprised how well the FT1PX worked using the default out of the box settings. I was marking a fish here and there as I slowly paddled around the pond.
Oh yeah, the deepest part I found was close to 10 feet. It wasn't a hole, but a wide expanse. So I need to do some more pond exploring.
After an hour and a half on the water it was time to get back. It was hot and I didn't bring any water along. I managed to get a few smaller crappie in the boat as I was casting up towards the bank. I was hoping to find their lair, the place the big monsters hang out as I had caught some big crappie from this pond.
Overall, I am happy with the Hawkeye FT1PX kayak fish finder. No complaints, the price is right, and it works.
This works as advertised, I am looking forward to my next outing on this pond and putting the fish finder through its paces. I know there are a lot of bigger bass, crappie, and sunfish in this pond and I hope to find out where they are hiding in the heat of summer.