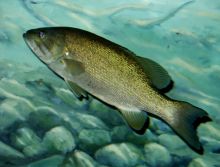 Spring Fever? It is time to get out and restock that tackle bag for some early spring crankbait fishing.
The local ponds and lakes in my area are still frozen or slushed over; old man winter is still hanging around. When that thaw starts, I want to be ready to get out fishing and see what might happen.


Spring Crankbait Fishing – Are You Ready?
For the most part, I am minimalist and I try not to weigh myself down with extra stuff to lug around. Whether camping out or hiking along the banks of a promising neighborhood retention pond, I really do not want to haul pounds and pounds of gear with me.
My springtime bass catching arsenal consists of smaller crankbaits. My favorites are the Rapala 2-inch DT4 & DT6, the Rebel 2-inch crawfish, and the Bomber Square A 1-5/8 inch lures, all in a variety of colors.
And just what are those colors?
Mostly baby bass and anything with some chartreuse on the body, these are my confidence baits.
Nevertheless, I do carry a few other crankbait styles and colors. So don't be afraid to experiment, observe what others are throwing, after all, it is about what those fish want.
As a side note, some folks do look for a tighter wiggle for colder weather bass fishing. My own personal experience suggests that the bass do not read those fishing books and magazine. However, I do think this selection covers all of the bases and these baits work for me in my mostly shallow water fishing.
One of my go-to sources of fishing gear is http://www.tacklewarehouse.com. Their prices are much better than the big-box stores. They also offer military and veterans discounts. Let me know if you find better prices elsewhere.
So, that is how I get ready for my spring crankbait fishing!
Let me know what you do and what your favorite spring crankbaits are?
Future posts will discuss how and where to fish these baits.