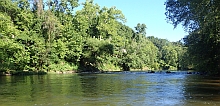 Scott and I were itching to get out for a weekend fishing trip. It had been over a month since we had done a river fishing trip. The last trip being down this very same river, — the Rivanna.



Rivanna River Fishing – The 100 Degree Trip
Midge was coming in late on a delayed flight due to the Delta computer problems. Her flight kept getting delayed and delayed but she finally made it. After picking her up at the airport in the wee hours of the morning there was no time for a power nap before I had to leave.
Actually, since her flight arrived so late (early?) I would be running late to the boat ramp.
I loaded up the truck and got on the road to meet up at the boat ramp in Columbia at 07:00. The big gulp size of 7-11 coffee really helped keep me going, as well as looking forward to a weekend getaway.
Floating, fishing, and camping!
It was a beautiful weekend, but it was hot, I mean really hot! The "feels-like" temperatures were well north of the 100-degree mark.

I really don't think we have much in the way of commonsense!? But we had to make the best of the limited number of time off that everyone can sync up to.
We spent a lot of time just relaxing and chilling in the flow of the cool river water under the shady arches of the primordial tree canopy.
But, the time seem to pass all too quickly as we aimlessly floated down river. I found the summertime scenery and wildlife viewing was all to consuming.
We did see a lot of eagles on this float trip.
As we got too close to their perch up high up in some tree, they would take to flight. It was almost as if they were leading us down river.
We did catch fish. Not a lot of fish, mostly just those young smallmouth that were willing and eager to grab something from one of our casts.
The bigger fish we caught just a month earlier must have been looking for some of that cooler and shady water!