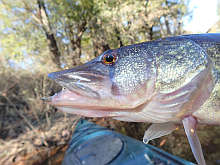 Yikes, a beautiful fall day just makes you want to be outside doing stuff!
Last night after some wheeling and dealing, I was able to negotiate a day of fishing out of Midge. Actually I think she prefers that I get out of the house when it's nice outside.


Fishing On The Nottoway River – Part IV
As the sun was peaking up over the horizon with a good chill in the air, I fumbled around trying to find my waterproof jacket. I loaded up my fishing gear and Tarpon 140 fishing kayak and headed out for a day of fishing on the Nottoway River. Yeah, I was getting a bit later start than I had hoped. Sunrise was scheduled for 07:27, damn schedules!.
I kept thinking about that weather forecast, the promised blue sunny skies, the promise of catching fish, and that I should have planned better to get an earlier start. I really need to figure out a better way to organize this stuff.
An hour later, I arrived at the Cary's Bridge ramp. Only one other car!?
As I was gearing up, I could see how high the waterline was from the recent Hurricane Matthew. The water had been up into the parking lot.
I was on the water paddling upstream in 15 minutes. An eagle was keeping me company as I went. It would take to flight and go upstream just out of site as if to watch over me. Soon as I go close enough, the eagle would again take to flight and head to its next perch.

Soon as I passed the Tobacco Trail bridge, the eagle went about its business. Now the deer were watching me as I paddled.
In no time, I was far enough from the ramp to just drift back and start fishing.
This section of the Nottoway has a lot of variety. You can catch nearly everything that swims in this part of Virginia.
It wasn't long before my virtual stringer started getting loaded down with fish. I am pretty much a catch and release guy here in the fishing kayak.
I need to figure out how to rig up a way to keep some of the catch. Let me know if you have any ideas?
Caught a bunch of 4 to 5 inch bluegills. They are a lot of fun, the Nottoway bluegills are true fighters.
Also managed to reel in a number of rock bass. Got 2 that were 11 inches and 1 at 12 inches. That 12 incher is a citation here in Virginia.

I lucked into a nice 12 inch smallmouth. I am amazed that they are this far down. The James and Rivanna Rivers are where I usually head to for catching smallmouth.
Just a hundred yards or so from getting back to the ramp, for the last fish of the day, I reeled in a nice 19 inch pickerel.
Today, the only baits I used were Bass Pro black and chartreuse bumblebee's on a 1/8 ounce red jig head attached to a silver spinner.
That virtual stringer was weighed down with a lot of fish! Looking forward to the next float.