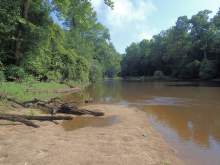 The weatherman said that today was going be the best day of the weekend.
With that bit of information, I hurriedly loaded up my Tarpon 140 fishing kayak on the truck along with the usual assortment of rods and baits.



Fishing on the Nottoway River Part II
I had been thinking about heading up to the Nottoway River again, this time to launch at the Cary's Bridge ramp just off Route 653 in Capron, Virginia. That was the plan!
A cold front passed through the night before. I wasn't sure what to expect with all of the rain we had. A once empty bucket out back now had 3 inches of rainwater.
Lots of folks were making the best of the weekend. I saw a good number of jon boats, canoes, and fishing kayaks on their way someplace. Fortunately, none of these folks was heading in my direction!
It was nearly 8 o'clock in the morning as I pulled into the ramp parking area, — I had gotten a later than hoped for an early start to the day. If I had planned better, I could have !?!?!? in any event, I was here. I wasn't really concerned about what I could have done to get an earlier start. Just being outside and getting some outdoor time was the order of the day.
The ramp was nearly deserted, there were just 3 other cars, 2 of them with trailers. No worries! I would have the river mostly to myself today.
I spent the next hour paddling up stream, probably about 2 and a half miles or so. I passed under the Tobacco Heritage Trail and made a note to check this out later for some nice day hiking opportunities.
There were a few places along the way to stop and stretch. From here, I just drifted back to the ramp.
Over the next 5 hours, I managed to get a nice catfish, bluegill, and a pickerel into the boat. I hooked into a nice bass that escaped before I could get it in the boat and take her picture. I had quite a few bite without any hookups. Overall, it was a pretty good day of fishing!
Everything was caught using a beetle spin jig with a Bass Pro Humbug in a red and chartreuse color. I tried throwing a few different minnow baits with no luck. Those post cold front conditions probably put a damper on those fish appetites.