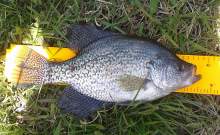 This is big crappie season!
Every year around this time, the crappie school up at the shallow end of a nearby retention pond. Since figuring this out, I have been at that pond trying to catch those barn door size slabs.



Big Crappie Season – 2016
Actually, I am trophy hunting. I get my picture and let them go.
This year I managed to catch one trophy slab, coming in at nearly 16 inches. That one is number 9 on my list. I have one more to go for that much-coveted Virginia Master Angler award. I have been working on this for a good number of years, since I found out were the crappie's were schooling up.
Just one more to go! Last year I caught a boat load of crappie at this time, none were the big 'uns that I was after. Some were close to that 15 inch mark, but close enough does not count.
I caught this guy on a small Bass Pro bumble bee pink and chartreuse spinning jig. I still had it tied on from my prior trip down Virginia's Pamunkey River.
I have become a big fan of these all-purpose smaller spinning jigs and beetle spins. They are catching anything that swims. I have had good luck with the Blue Fox spinners catching these larger crappie. I have a bunch of those as well.
So I have another week or two I figure at the shallow end of the pond. Then these guy's will head back for deeper water. So I am hoping to catch number 10 this week or maybe next. If a big 'un doesn't turn up, I need to come up with a "Plan B."
I have a number of largemouth bass citations, some caught right from this very same pond. In Virginia, to get a largemouth citation, the hawg must be at least 22 inches long or 8 pounds. Since I don't have a certified scale, I measure them out and get a picture. My largest is 24 inches.
Well, time to get back out for number 10.