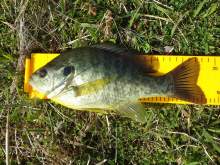 I was out trying to catch some monster crappie today, just casting around the shallow areas from the bank hoping to get one of the barn door sized slabs. Here in Virginia, a citation size crappie comes in at 15 inches.
To date, I have caught 9 crappie over that 15 inch mark. A few of those on a fly rod. I was hoping to catch number 10 and score an "Expert Angler" certificate.



Big Bad Bluegill
The weather was decent, so it was really pleasant to be outside and enjoying the nice early springtime air and getting some much needed sunshine. That sunshine helps keep my internal batteries charged up!
The crappie are shallower this time of year and I was fishing where I managed to catch some larger ones last year.
Managed to nab a few small crappie and released them back into the pond. I hope that I can catch them again when they get bigger.
After a while, I reeled in a monster bluegill, coming in at 11 1/4 inches in length. Yikes!
Until now, the biggest bluegill I had caught was probably closer to 6 inches or so. I guess those are the average size in the ponds I fish in around here.

After getting a trophy picture, I let her go.
I had heard there were some big bluegills in a city owned reservoir about 30 minutes from here. I hadn't purchased a permit to get into that water yet, so that was off limits for the time being.
Now that I know there is at least one of these monsters here in this pond, I need to catch another and another.
I am sure there are more. I need to study up on the bluegill, as I think these big guys go deep here shortly.
Now I need to try for another 9 of these beasts!