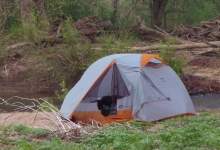 I noticed on my last trip that my REI Quarter Dome 2 tent had 3 small holes in the tent fly.
I suspect they were from pitching the tent when the fly was wet. As it dried in the sun, it got overly tight? Or, perhaps they are burn holes from campfire embers? I didn't see any char marks, so I really think it is the former.


Silnylon Tent Repair
Whatever the reason, they are holes that need to be patched. The REI Quarter Dome 2 fly is made from lightweight silnylon. Ordinarily I would use some of this product, Tenacious Tape, available here on Amazon.
But, tenacious tape does not stick to silicon. The only thing that sticks to silicon is more silicon.
From my go-to store, Amazon, I ordered some MCNETT Sil-Net Silicon Seam Sealer.
I also needed some patching material.
Somewhere along the way, I had picked up this tent pole bag. I don't recall where? It is made from ripstop silnylon. Patching material problem solved. I cut 3 small circles, about 1/2 inch in diameter, more than enough to cover up those holes.
I set up the tent and put the fly on, — inside out. So I would have easy access to the underside of the tent fly. The red circles are the holes that need to be repaired.
The instructions said to clean everything good with alcohol.
Simple enough! I did a through wiping down of the tent fly and the patch material with some alcohol saturated cotton pads. Then I waited about 30 minutes to make sure everything was good and dry.
I don't have any pictures of this next part as I was not sure what the working time of the seam sealer.
Using the supplied brush, I coated the area around one of the holes in the tent fly with the seam sealer. Then, I placed the patch onto the wet seam sealer and brushed over it, working out any air bubbles. Lastly, I added a bit more seam sealer over the patch area and worked it in with the supplied brush.
Repeated the process 2 more times.
The directions said to let this cure 3 to 6 hours, which I did. I wanted to let it go longer than the 6 hours, but rain was coming my way. After 7 hours of curing, I took the tent down and just draped the tent fly over my fishing kayak trailer.
The next morning, as I was heading out the door to work, I checked out my handy work. The patches were nice and dry and not in any way tacky. I just let it sit until this weekend as I wanted to rub a bit of baby powder over the patches. I didn't have any and needed to pick up a small container.
I don't know if the baby powder was necessary? Year's ago, I seam sealed a Mountain Hardware tent fly that always leaked. It had those clear windows in the top, seemed like a cool idea, but it never worked out well. Lesson learned, never buy a tent with plastic windows. They will leak. Anyhow, the seam sealer was always sticking to itself. That Mountain Hardware tent wasn't made from silnylon. As I recall, it was the "Thru-Hiker," a nice tent, except for those windows.
Overall, the patching job was a lot easier than I thought it would be. I hope to get another year or two out of this tent.