Are you looking for a review on Mountain House freeze dried backpacking meals?
Today I am going to review the Mountain House Freeze Dried Beef Stroganoff With Noodles single serving entrée.


Mountain House Freeze Dried Beef Stroganoff With Noodles
A small selection of Mountain House freeze dried meals are available at my local big-box store. But you can find a huge selection of these Mountain House freeze dried meals right here on Amazon.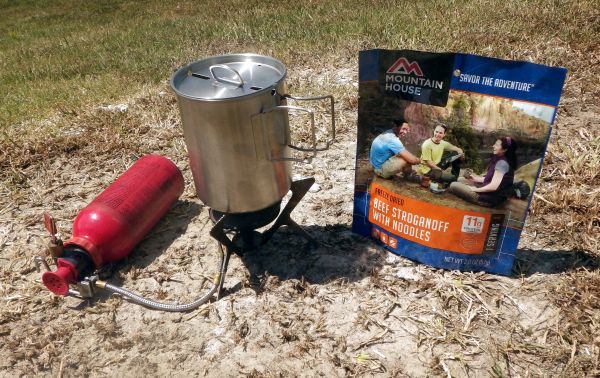 The Mountain House brand are my go-to freeze dried meals when I am out on my backpacking trips or other outdoor adventures. You can easily supplement these meals using your own dehydrated additions. That will be the topic of future posts.
In this particular post, I am looking at the details of the Mountain House freeze dried Beef Stroganoff with Noodles single serving entrée. Look at the over two-hundred 4- and 5-star reviews on Amazon as evidence of the many satisfied customers for this entrée! Actually, in reading those reviews, lots of folks like this one the best!
These Mountain House meals also make a good addition to your emergency food stash. I have a small pile of them in my own 10-day supply of emergency food for hurricanes, winter storms, extended power outages and so on.
You can even use the single serving meals to help build out your own homemade MRE pouches (Meals Ready to Eat) for camping trips, car trips, or to have tucked away in the office desk or work truck.
If you have never had one of these meals before, or maybe you have, — on the bottom of each pouch is a quote, bit of trivia, or other piece of useful advice.
This particular pouch was purchased in a Staunton, Virginia on the way out for a backpacking trip in June 2015. The Mountain House website details how to read the package date codes. This particular pouch was manufactured on April 12, 2015 at 3:44 pm. So this package has a 12 year shelf life.
[Update: In July 2016, Mountain House updated their product freshness dates. Their products now have a 30 year shelf-life.]
First, the specifications:
– package best used by date: April 2027
– pouch width: 7 inches
– pouch height: 8 1/4 inches
– package weight: 2 1/2 ounces / 73 grams
– product weight: 1 7/8 ounces / 54 grams
– package is self-standing
– package has a zip top closure 2 1/2 inches from the top
– package has a tear off top, 2 inches from the top
– makes about 1 cup after cooking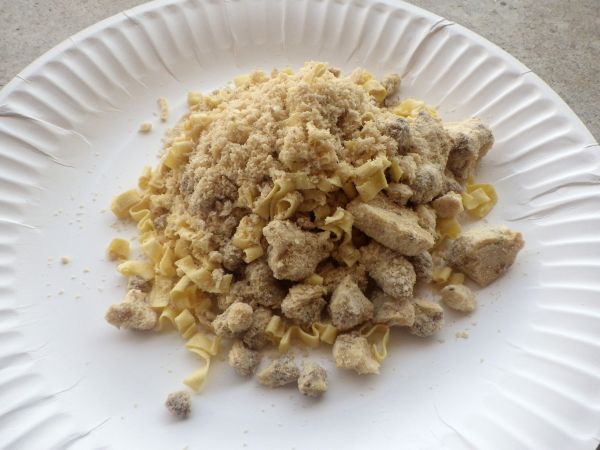 The above image is a view of the package freeze dried contents.
The package bottom is sealed in a way that it has no corners, making it easy to work your spoon around to get every last bit.
As directed by the package instructions, add 3/4 cup (6 ounces) boiling water to the pouch, stir, and seal. Yeah, it looks kind of soupy, but it will thicken.
Wait 4 or so minutes, open, and stir up the contents. Seal the pouch.
After 10 minutes, open and dig in. I must admit, this is also one of my favorite Mountain House meals.
A long handled spoon, such as this one made by Optimus makes it much easier to get the goods from the pouch.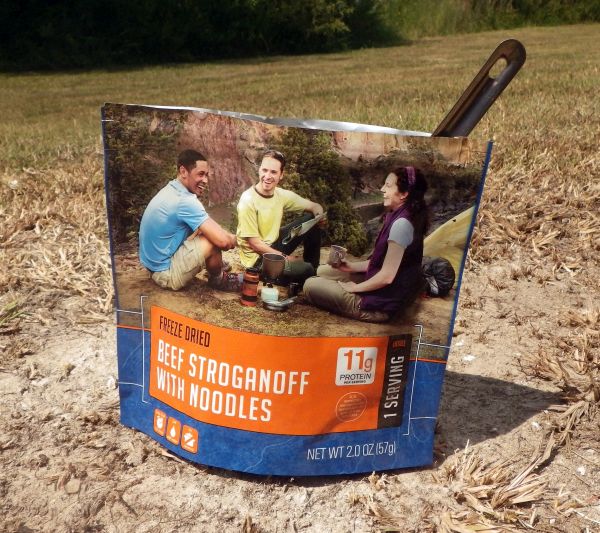 If you want to jazz this up a bit, take some homemade beef jerky and snip a strip or two into small bits. Let the jerky bits soak in that 3/4 cup water for 15 to 20 minutes before boiling it up and adding to the pouch.
Check out my food dehydrator page for other recipe ideas, tips, and tricks.